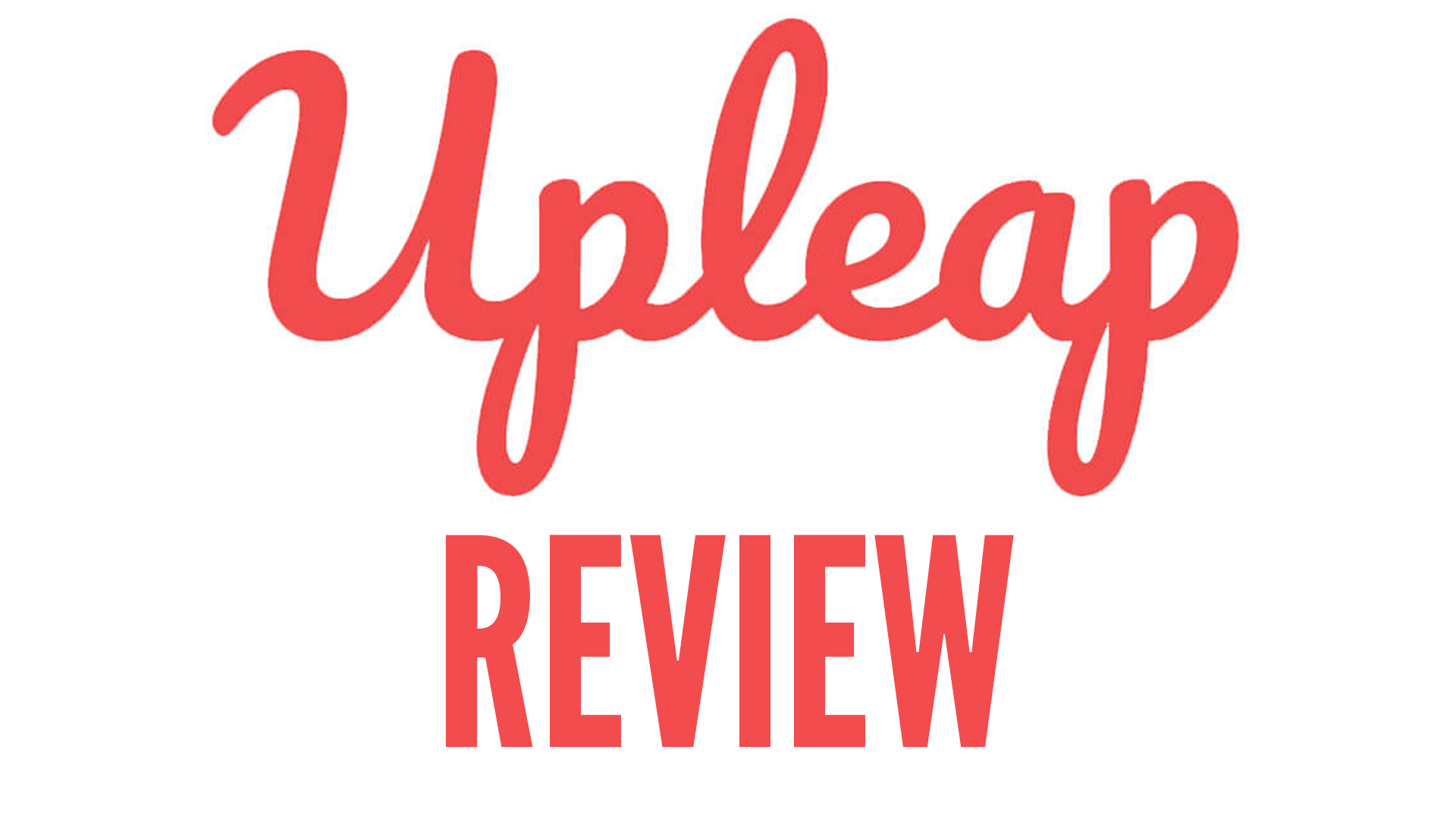 I am someone that has used upleaps $39 plan for about 10 months straight on one of my Instagram accounts and that has resulted to a total of $390 and for that reason, I believe I am in the best position to give you an honest review so that you'd be able to make an informed decision on whether you should or should not use upleap's Instagram growth service. I attached a screenshot of one of my recent receipts from the monthly payment I make to upleap below:
Now that I have shown you proof, let me now walk you through, first of all, a quick overview of upleap so that you'll get to understand what they are all about… But before  I start, If you won't like to read the whole article you can CLICK HERE to go to the article's summary.
What Exactly Is Upleap? (An Overview) 
Upleap is an Instagram growth software that claims to help you grow, real and organic followers on Instagram and they also, claim to give you a personal and dedicated account manager that only devotes time to nothing but your Instagram accounts growth.
As stated on Upleap's website, they claim to increase your engagement, and sales (if you're a person doing business on Instagram). Upleap has been around for a couple of years and has made a big name in the Instagram marketing niche as they stood out to win the #1 Instagram tool of 2018…  BUT the big question still remains: IS UPLEAP LEGIT?
Upleap, as stated on their website, is an Instagram, growth software and is actually for people and businesses who want to reach more audiences using one of the hottest social media networks on the planet right now! (Instagram) and to be specific upleap would be good for people like:
Bloggers
Aspiring social media influencers
YouTubers
Twitch gamers 
Online stores, Real estate agents & also personal accounts…
So, now that I'm sure you know exactly what Upleap does and who it is for, lets now take a look at the PROS & CONS I found while using it…
Pros: Things I Like About Upleap
Here, I'm gonna go over the very, things that I like about upleap as an Instagram growth software and they include:
The first thing that I like about then is the fact that they have real, client reviews from real clients that have gotten real results by using their Instagram growth tool from all around the web…


The second thing that I like about upleap is the fact that they really, dedicate, personal account managers to your Instagram account and they are actually one of the very few Instagram growth platforms that provide a fully managed Instagram growth service…


One other thing that I like about upleap is that they have super-responsive customer support that'll always be there to answer all your queries and help you with all your Instagram needs…


With upleap, you actually get diversity in your account promotion strategies, and what I mean by this, is that upleap doesn't just comment on peoples posts or just like other peoples posts, upleap diversifies and uses both liking posts, commenting, viewing Instagram stories, following other people, etc…


One very advantageous feature that Upleap has is their, 100% secure payment process that ensures that users are not rendered vulnerable while making payments on the upleap platform…


Another advantage that upleap has is the fact that they have a very safe login process, Unlike many of their competitors in the Instagram growth tool market…


The last but not the least thing that I like about upleap is the fact that it is very easy to integrate and set up as you would just need to answer some questions that your Instagram account manager will then use to find the exact tactics and parameters that he would go when working on your Instagram account growth…
Cons: Things I Don't Like About Upleap
In this section of this upleap review, I will talk about the things that I don't like about upleap and they include:
Uses the Instagram automation strategy (which is not encouraged by Instagram, but who cares? We all get away with it 100% Of the times)
Upleap Features: What can It Do?
Upleap basically can and will help you grow your Instagram account by performing all the tasks that you should spend hours and hours of time doing if they were being done by you… I'll go ahead and list the features of the upleap Instagram growth tool below:
The story views feature: with this feature, the upleap Instagram growth tool will go out there and view millions of stories of people that are interested in what your Instagram profile is about and by simply doing that, those people will notice and probably follow your account…

The follow and unfollow feature: this feature as I guess you already know goes out and follows the people that you target on your Instagram account and by following them… They will notice your account and follow you back and once they do follow you back, upleap goes and unfollows them!
The like feature: This feature on upleap goes out to like a bunch of posts on the accounts of people that you target and that way those people see that you are liking their posts and due to that they will check out your own account as well and engage with you!
The Targeting feature: this upleap feature, is one that lets you define to your account manager the people that you want to get as your followers on Instagram and with upleap you can do this with many variables, like telling upleap to get you followers that live in a particular location, people that have used a particular hashtag, people that have liked a particular post or even people that follow a particular account!
Pricing: How Much Does Upleap Cost?
upleap has three major pricing plans, and they include the $39 per month plan, the $69 per month plan and the $99 per month plan nut if you want to pay yearly, you will be able to save up to 40% Off… Below is a screenshot showing you a sneak peek of what their 3 plans look lie and what you get in each of the plans… But they also have a NO CREDIT CARD REQUIRED 3day trial Which you can check out here.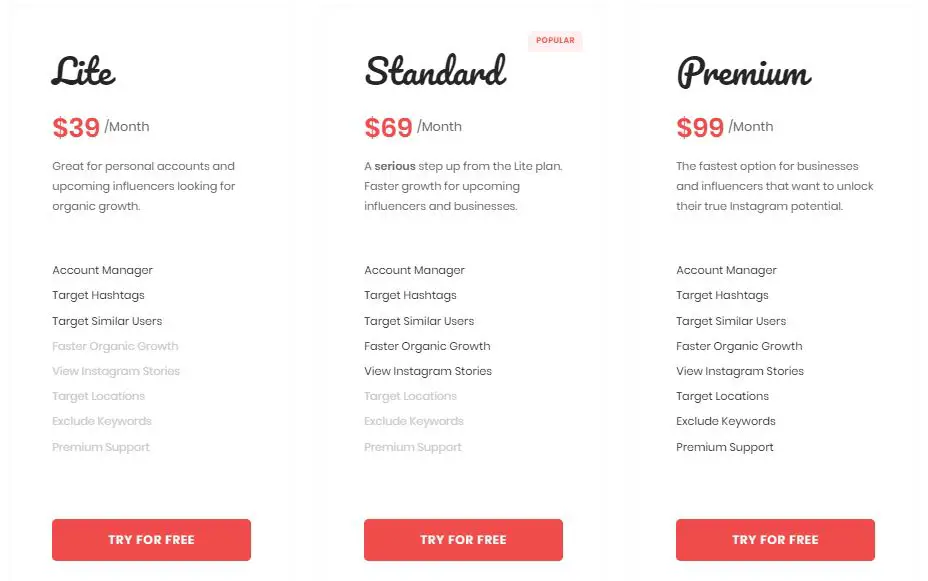 How Does Upleap Work?
Upleap works in just three simple steps and they include:
Signing up for their 3-day free trial. Which can be done through this link.
Getting in contact with your account assigned manager & then
 Tell your account manager what kind of followers you want and WATCH YOUR ACCOUNT GROW!
Is Upleap Safe For Your Instagram?
the answer to this question is a straight "YES" as upleap has had thousands and thousands of Instagram accounts grown without getting them banned or into action blocks. and I don't think your own Instagram account will be any different… So, Yes, Upleap is safe for your Instagram account!
What Do Other Customers Say About Upleap?
I have searched around the internet and I have come up with the top 5 reviews from people who currently are using upleap to grow their Instagram accounts and here is what they said all quoted below: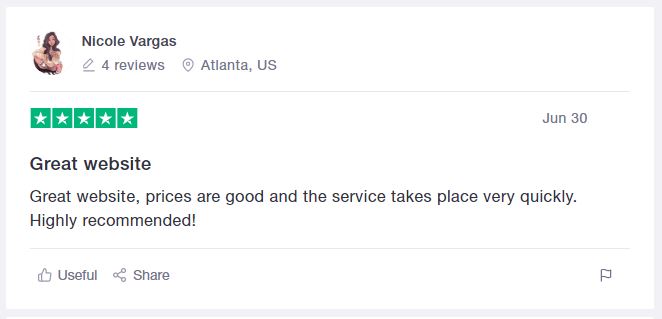 ---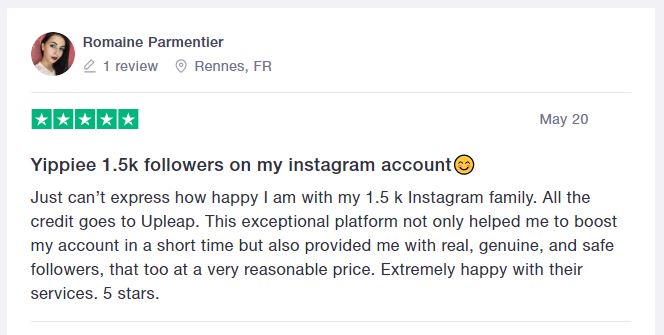 ---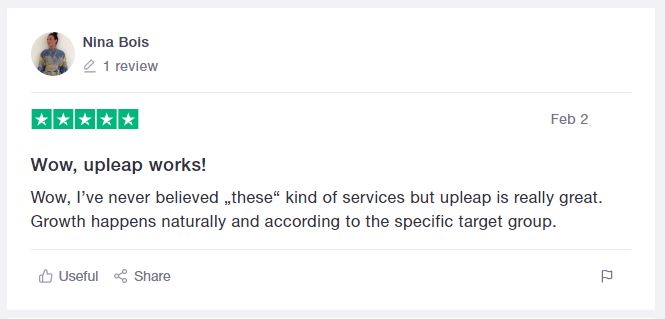 ---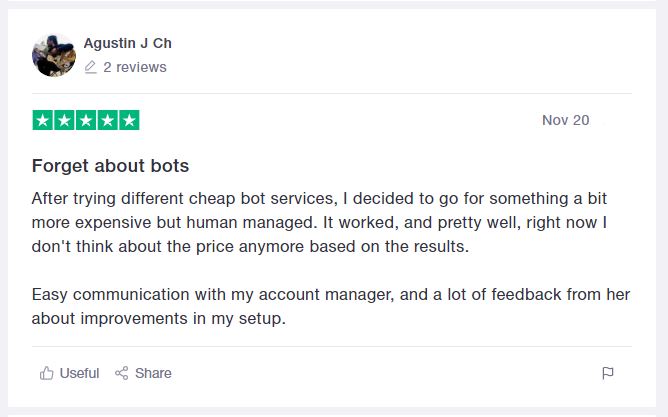 ---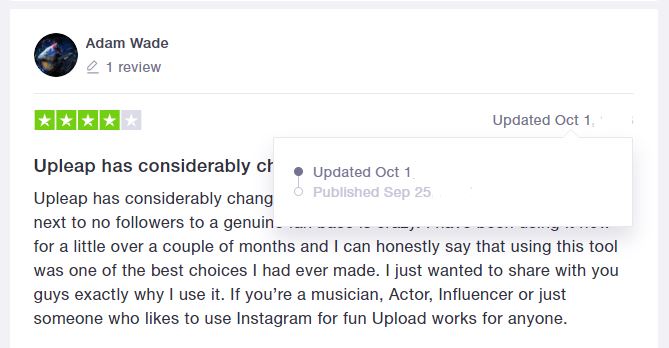 ---
Does Upleap Have Any Alternatives?
Yes.. upleap has a bunch of competitors and alternatives and first of all, I will list the top upleap alternative that I know of below and I will then compare it with upleap so that you get to make your choice. The alternative that i talk about is another Instagram growth tool know as kicksta…
so, now that you know the top alternative to upleap, I will now compare upleap with kicksta so that you'll be able to make the right decision as regards what one to use between upleap and kicksta…
Upleap VS Kicksta
Kicksta is another Instagram growth tool in the market and it stands to be one of the competitors that upleap has and I'm going to compare them both, and I'll compare them via their pricing, their customer reviews, and a lot of other factors…
Kicksta VS Upleap: Pricing
As regards the pricing, upleap has a cheaper feat as upleap offers you three packages which include their lite plan which costs $39, their standard plan which costs $69 and their premium plan which costs $99 meanwhile kicksta offer two pricing packages which include their creative plan which costs $49 and their professional plan which costs $99 per month and you can get a glimpse of what you get in those kicksta plans in the image below: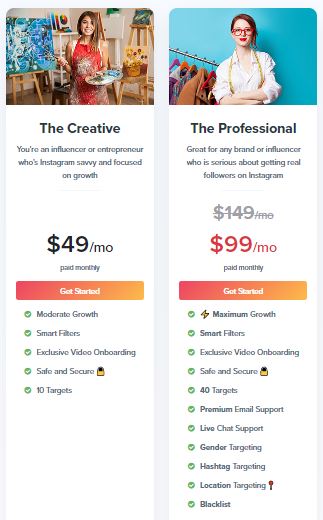 What do Kicksta Customers Say About Them?
you can see below a list of reviews that I have found from around the internet on kicksta…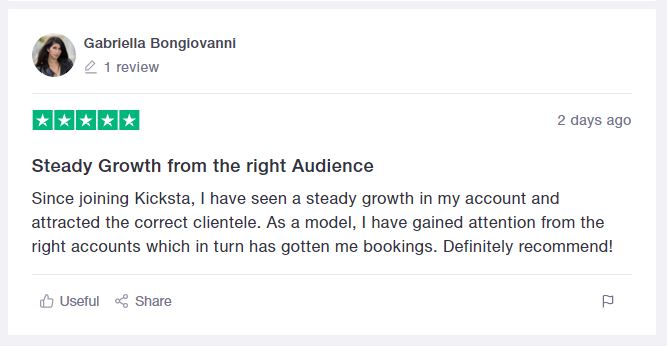 ---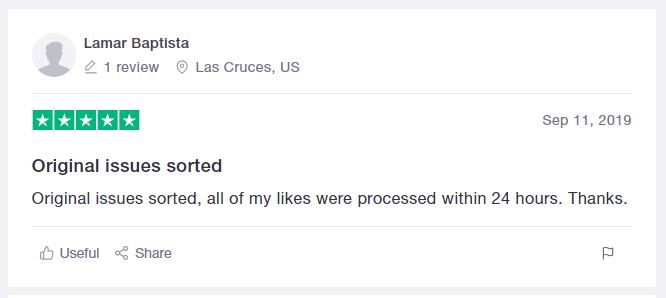 ---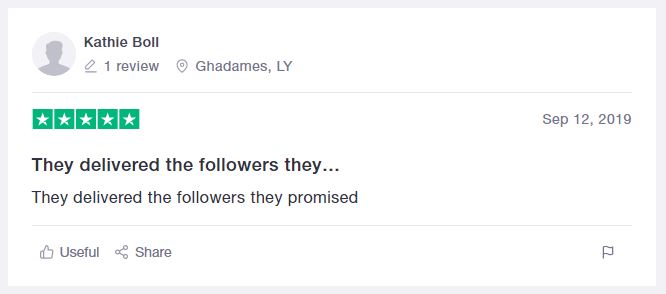 ---
Kicksta VS Upleap: Features
below I will be comparing the features that both upleap and kicksta give you access to so that you can make a no questions asked choice, It will be done in a tabular form below:
| | |
| --- | --- |
| Upleap | Kicksta |
| Offers you a 3day free trial | Offers no free trial at all |
| Pricing plans start at $39, $69 and $99 | Pricing plans start at $49 and $99 |
| Follows and Unfollows | Follows and Unfollows |
| Likes Automatically | Likes Automatically |
| | |
| --- | --- |
| Targets #hashtags, locations & influencers | Targets #hashtags, locations & influencers |
| Has a growth tracker | Has a growth tracker |
| You get a dedicated account manager | You do not get a dedicated account manager |
|   |   |
Still, Have Doubts? Watch the Upleap Review Below
If you have read my review till this point then I think you should just watch the video below to hear what a real upleap user had to say about them… 
My review of the newest and BEST way to grow your Instagram followers in 2018! Upleap is the only website to my knowledge that does not sell views to help grow accounts, rather they manage your account and place you in front of real people who are interested in similar topics related to your page.
---

---