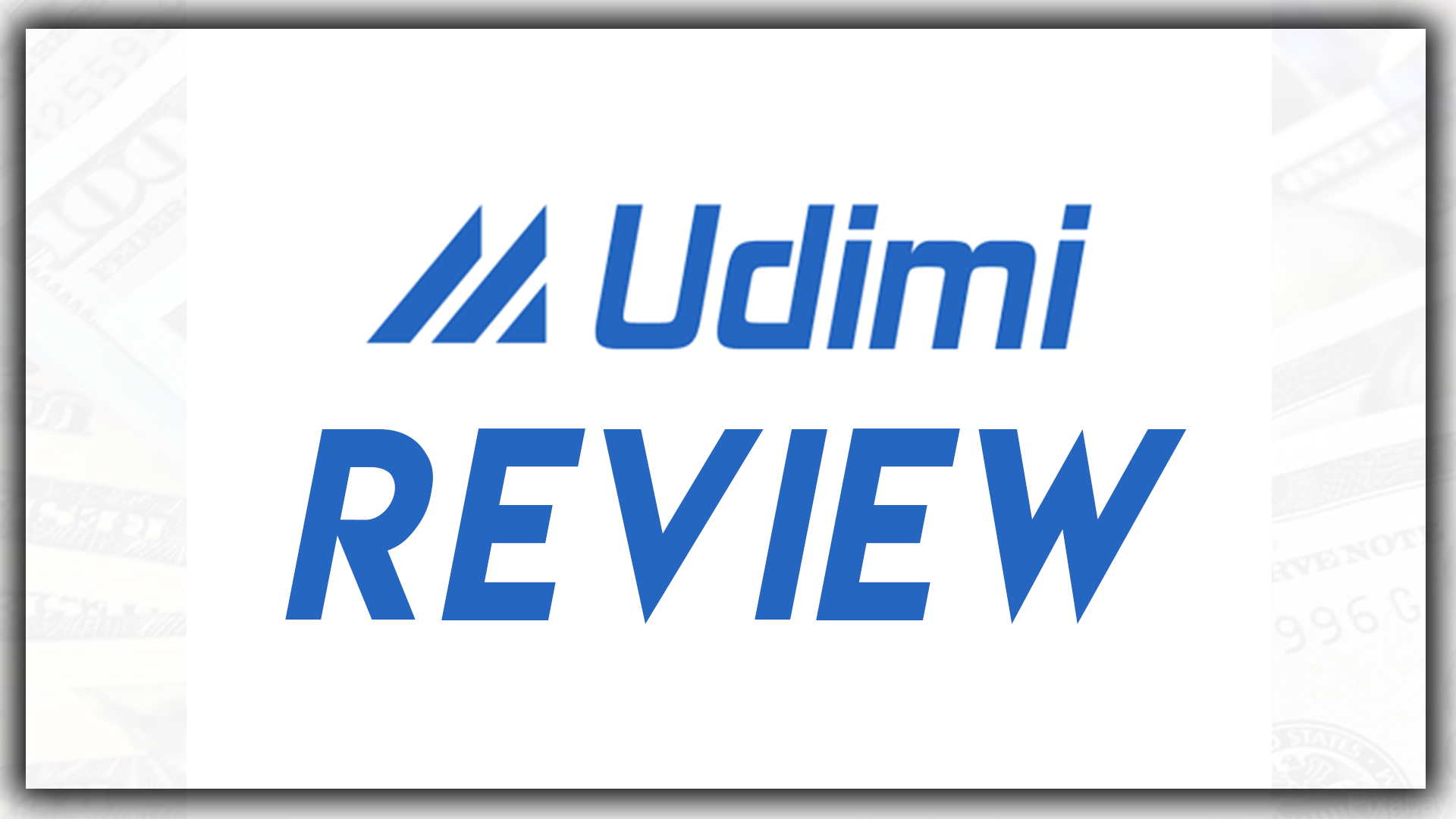 If you're reading this article, then you're probably wanting to know if the solo ads website known as UDIMI is worth your money and time and don't worry you have just come to the right article because in this article I will tell you all you need to know about, udimi and actually tell you how you need to use their website in the right way because I am someone who actually lost about $5000 plus when I when I was new to the udimi platform, and this happened simply because I didn't know exactly how to use their site properly.. (and don't get scared! You won't lose money, because, With what I'll show you about udimi, you will be able to use it the right way to generate leads, sales & results from their site) so just make sure you read this article till the end as I will be sharing a lot of value!
Below you can actually in the table of contents. So make sure you read this till the end because I will be going super in-depth…
An Overview On Udimi
Udimi is an online marketplace where people go to buy and sell solo ads and Solo ads are simply email advertisements that you buy from people let you buy from people who have large email list, so how's work in such a way that all you have to do would be to the email list other and have the email list other and have him send out an email with the offer you want to promote to a number of his email list subscribers…
The very good solo ads out there would actually get the members of the solo ad sellers email list clicking on the links of what you have to promote to them and by clicking on your links, you can generate sales or get more signups to your own email list, and with them as leads on your email list, you can then convert them into sales over time if you have the perfect sales funnels…
One good side to udimi solo ads is that they actually give you cheaper cost-per-clicks when compared to your other popular traffic sources such as Bing ads, Google ads, Facebook ads, Snapchat ads, Banner Ads and the rest of them… But, it's important that you know that alongside getting these low cost per clicks, you also have a high risk of buying from the wrong solo ad provider on udimi.. These kind of bad solo Ad providers will send you fake visitors to your offer that's one of the ways that contributed to me losing about $5000 when I was new to the udimi solo ads platform but don't worry as I will show you exactly how you can find the right Solo ad provider for your products and offers, so, that you don't get ripped off of your money!
Who Was UDIMI Made For?
Udimi is literally for anyone who wants exposure online on a low budget .. if you're someone who has a product or maybe an affiliate marketer or even a CPA marketer or just someone who wants to build up an email list then you did me is just the right place for you if used the right way…
How I Lost $5000+ On My first Solo Ad
I actually lost a lot of money when I started I started out on udimi simply because I didn't have guides and blog posts like this 1 to guide me through what to do and how to do it right.. below are the top 3 reasons that contributed to me losing the $5k that I spent on about 10k+ visitors:
I chose the wrong seller as at then
I didn't know what I was doing
I sent the traffic to an offer directly instead of capturing emails first…
When I was buying the $5k solo ads I was actually a novice at promoting what I was at that time… And I didn't know that I actually had to send the traffic that I buy from UDIMI to a capture page then after capturing the emails send them to the offer that I wanted to promote… what I did instead was just by traffic and send straight to and send straight to the offer that I was promoting and actually and actually made a few sales on and I rounded up about $500 Plus in $500 Plus in sales but trust me I could have made more money if money if I had first of all gotten those people money if I had first of all gotten those people into an email list and actually remarketed to them again and again.. and not just that even if I didn't make sense from them at that point I will still be able to promote other products that they might want to them I still make money off those but I lost it all simply because I didn't have someone to tell me what I'm telling you right now… And don't totally get me wrong I still use udimi traffic right now and it still works now and will still work for any business that uses it the right way, because you just have to do it right and just continue reading because I will show you exactly how to find the best sellers on udimi and how to do everything the right way in order to see maximum results and profits on your investment..
How To Find The Right Sellers On Udimi (Important)
Finding the right sellers on udimi is one thing that you should get into your head simply because if you don't, you would be ripped off by some scammers who sell fake bot clicks on the platform… just follow my steps in this udimi review and you will be able to find the right seller for they offer you are wanting to promote…
Step one would be signing up for your udimi account if you have not done that already… If you have not signed up already I will recommend you use this link to sign up for your account so that you'll save money and get a discount off your first solo ad…

After you signed up for your UDIMI account the next step would be to click on the "find sellers" link which will bring up a bunch of solo Ad sellers for you… But, trust me when I tell you that you don't just want to choose from the first sellers that you see at the top, but instead of doing that we should take advantage of udimi's filter feature to find just who and what we need…

The first filter that you want to take advantage of as regards finding the right Solo ad seller for your offer would be the "rating filter". This particular filter is going to help us find sellers who have positive ratings the next week I will want to and finding sellers that have positive ratings will be very beneficial to us because each time a seller makes a sale on udimi, the seller gets a review from the buyer and it's either positive or negative… Obviously, we want to set the filter to solo ad Sellers with at least a 200+ positive reviews and about 1 to 2% negative reviews.

After we have set the rating filter to 200 + positive Ratings, the next filter feature that we want to utilize would be the "got sales filter" filter and this filter will help us increase our chances of getting sales from the solo ads that we will buy and this one works in such a way that each time a solo ad is bought, the solo ad buyer would be required by Udimi to say how many sales he or she got from that solo ad and we can use the "got sales filter" on udimi to find solo ad sellers who have at least a 20%+ conversion rate on their solo ads.

Now, after we've set up the "got sales filter", the next filter that we want to use is the "price filter" and for this I like to set my filters from as low as "$0.45″ (forty-five cents) per click to as high as "$0.90″ (ninety cents) per click. & also it's important that you know, that on udimi, the higher the cost per click the better.
After you are done with filtering down on the price, the "got sales filter" and the number of positive ratings… you should go through all the profiles & find one that suits your needs & your niche as well…
Once you have found and chosen a seller, the next step would be to go ahead and buy your solo ad, and to do so you just have to click on the seller profile and it should look something like and it should look something like what you see in the image below: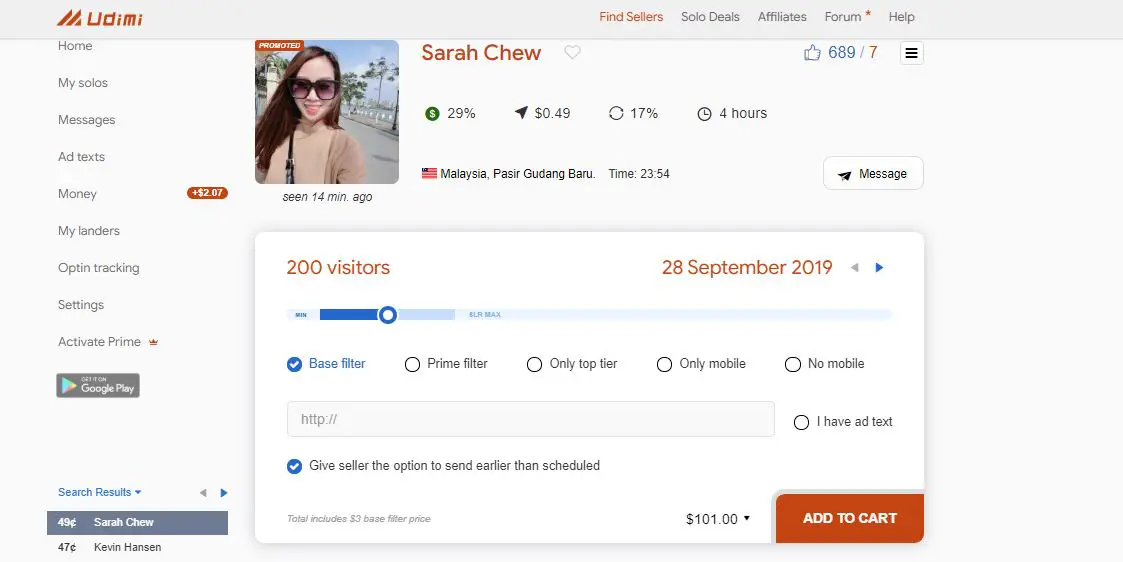 That you can see there is a movable slide at the just below the sellers profile on the screen which you could use to select the amount of clicks from the seller.. also it's important you use udimi's traffic filter to choose what kind of traffic you want & by sound so, udimi will get rid of the unqualified clicks… The traffic filter has five different options and they include:
The base filter: this one is responsible for making sure you don't receive bot to your website
The prime filter: with the prime filter make a double check on the traffic on the traffic that is delivered to your websites to make sure she's only high-quality traffic that will convert into sales and lead
The top tier only filter: this filter feature only receives traffic to your only receive traffic to your website from top 10 countries like the USA France Canada and the rest and the rest of them
The mobile-only filter: the mobile-only simply allows just Mobile traffic to your website and get rid of the rest.
The no mobile filter: the new mobile Theatre only allows desktop traffic to you and get rid of all mobile traffic coming through.
all these filters are there to help you choose and filter what kind of traffic you want and one you don't want so that you don't get anything thats not what you paid for.. That way udimi's filter tool will know what traffic to get rid of…
Udimi's filter tool, helps buyers filter their traffic and get rid of fake traffic, traffic from unwanted devices, traffic from unwanted countries and more…
But I'll recommend you just choose the base filter as it would not require you to pay more money… The other filters are for people that have the prime membership. Though the prime membership Actually costs a little bit more, it at the same time, makes your traffic better and would be recommended if you are someone with a robust budget.
It's also important will you to know one of the factors that make up a successful solo ad is your headline and your actual email body… but don't get scared if you can't write good email copies as there are three options that I would recommend you follow and they include:
Writing the email yourself (if you can)
Submitting just your link while purchasing the solo ads (here, the seller will have to come up with his or her own email copy)
Paying a professional sales copywriter to do this for you. (you can find professional sales copywriters from and pay them like $5 to do it for you and if you're someone who doesn't know whatever is you can check out my detailed article on what Fiverr is right here)
After you have checked the filters for the traffic and submitted your email copy or link, if you don't have an email copy, the next thing will be to make the payment and at the bottom right corner of the screen you'll see the total price And this price will include a $3 fee charged by udimi and all you have to do is to simply complete your purchase…
Once you Place your order, the traffic should start coming in and once it starts coming in, you should be able to view Analytics on the UDIMI websites and on this analytics you will be able to see how much traffic you have gotten already, the countries where your traffic is coming from and also the devices from which your traffic is coming from… it should look something like what you see in the image below: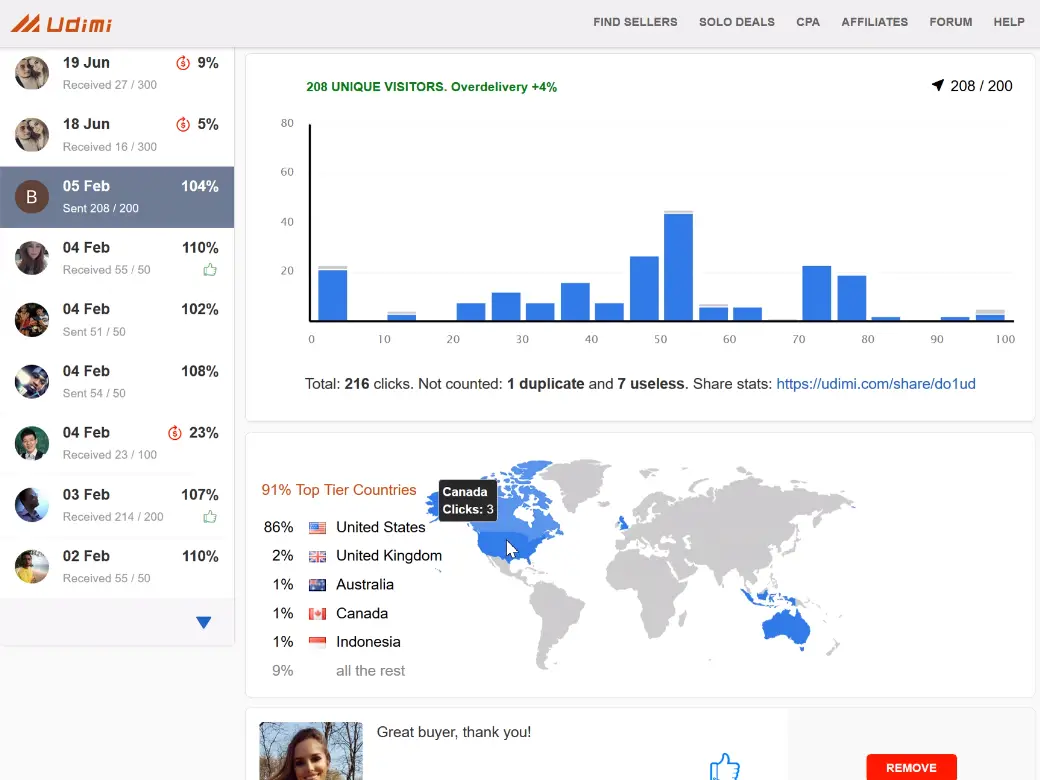 Why Using A Capture Page With UDIMI Is A Must!
If you don't know what a catch up it is if you don't know what a capture page is which I guess you know if you're within this article then it's in its simplest term is a page that collect people's emails before sending them to a product that you have to sell & why this is important as regards to buying traffic for me dinner is that sometimes when people click over to your they might get interested at that point but might not have the cash to buy immediately all might even want to bye but won't simply because they don't I know you and won't be able to actually trust you with buying what you recommend and this is where putting and this is where putting them in an email list the First Time comes in to play because when you have because when you have them on your email You can remind them about the products with them by Simply giving out for maybe like 2 to 3 days and then and then sending them back to the same offer… trust me I have been an internet marketer for years now and I know that these strategies work… I strongly recommend builderall as they're the only platform they provide you with an all-in-one marketing which will come with and also email and also email autoresponder for very very very affordable prices… if you're someone that does not know how to build perfect capture pages then you might want to watch the video to see how to do it with builderall…
build a capture page in 5 minutes – Builderall tutorials free 7 day trial here https://dianehoggarth.com/7day-free-trial-ba With Builderall you can liiterally just copy and paste, drag and drop and just change the words in a capture page it's all done for you, you just change the wording and content This
PRO's: Things I Like About Udimi
Here I'll go over the things that I like about UDIMI & they include:
They have a really easy to use interface that actually makes it 1000% easy for you to find the right solo ad provider for your offer.
They offer you a random discount and random discount and also acknowledge the best solo ad buyers and sellers on a monthly basis.
While buying solo ads on udimi, the email copies that were previously used by you while buying will be automatically & permanently saved for whenever you want to reuse them again.
CON's: Things I don't Like About Udimi
Here I'll go over all the disadvantages that I have while using UDIMI & they include:
You have to pay a little bit more to access some premium filters that help you track and that fake clicks to your website. (but the base filter is free & OK in my opinion)
I have also noticed that on udimi most of the times the % of buyers reports that had given by past customers are wrong in some cases.
UDIMI pricing: how much does it cost?
Different solo and sellers on the udimi platform sell their solo ads at different prices, but the normal range of what I feel you should pay for solo ads would be anywhere from $0.35 (thirty-five cents) per click all the way up to $0.90 (ninety cents) per click…
Do UDIMI Solo ads work?
The answer to this simple question would be simple "Yes" because I have used udimi to grow my business over the years and I still use udimi up till today, but you must remember that you have to do it the right way to prevent losing money…
What other people say about Udimi
I have actually done my research and have found and transported the top Six reviews find I'm various review sites about udimi and they are all attached below:
---

---

---

---

---

---

---
Top UDIMI alternatives you should know!
When it comes to the industry of Solo ads right now from all around the world but it still has some competitors that you might wanna check out below:
Should you use UDIMI?
My answer to this question would be a strict yes as I have seen a lot of success strict yes as I have seen a lot of success using traffic and I believe this traffic and I believe this traffic source will equally to work for you but I still keep repeating that you should make sure you buy traffic from the right seller and also make sure you send to the traffic to a capture page before before finally people over to your to your sales page because that way you have a chance of reminding them of the product for some who because of some reason it the other didn't buy at the First sale point and also you get a chance to promote related products to them in future.. (which is Super powerful)
My Final Thoughts
Overall, I think udimi is a nice marketplace for individuals who are looking to get fast and quick Traffic that actually converts into leads and sales for cheap! Although although I did lose a lot of money when I was starting out with buying solo ads on udimi I still believe that it was all my fault and also the fault of the fact That there were no reviews back then and that's why I have taken my time to write this detailed review on UDIMI so That people don't get to make the same mistakes that I made.. If you got any questions or thoughts, feel free to write them in the comments section below As I will be always there to answer…
Still Got Questions? Watch The Udimi Review Video Below!
Create your Udimi Solo Ad Account Here: https://udimi.com/a/uqu7b This video is about how Udimi Solo Ads are the best for driving traffic to your course or affiliate marketing offer. I also provide a bonus when you use my affiliate link above to create your Udimi account.