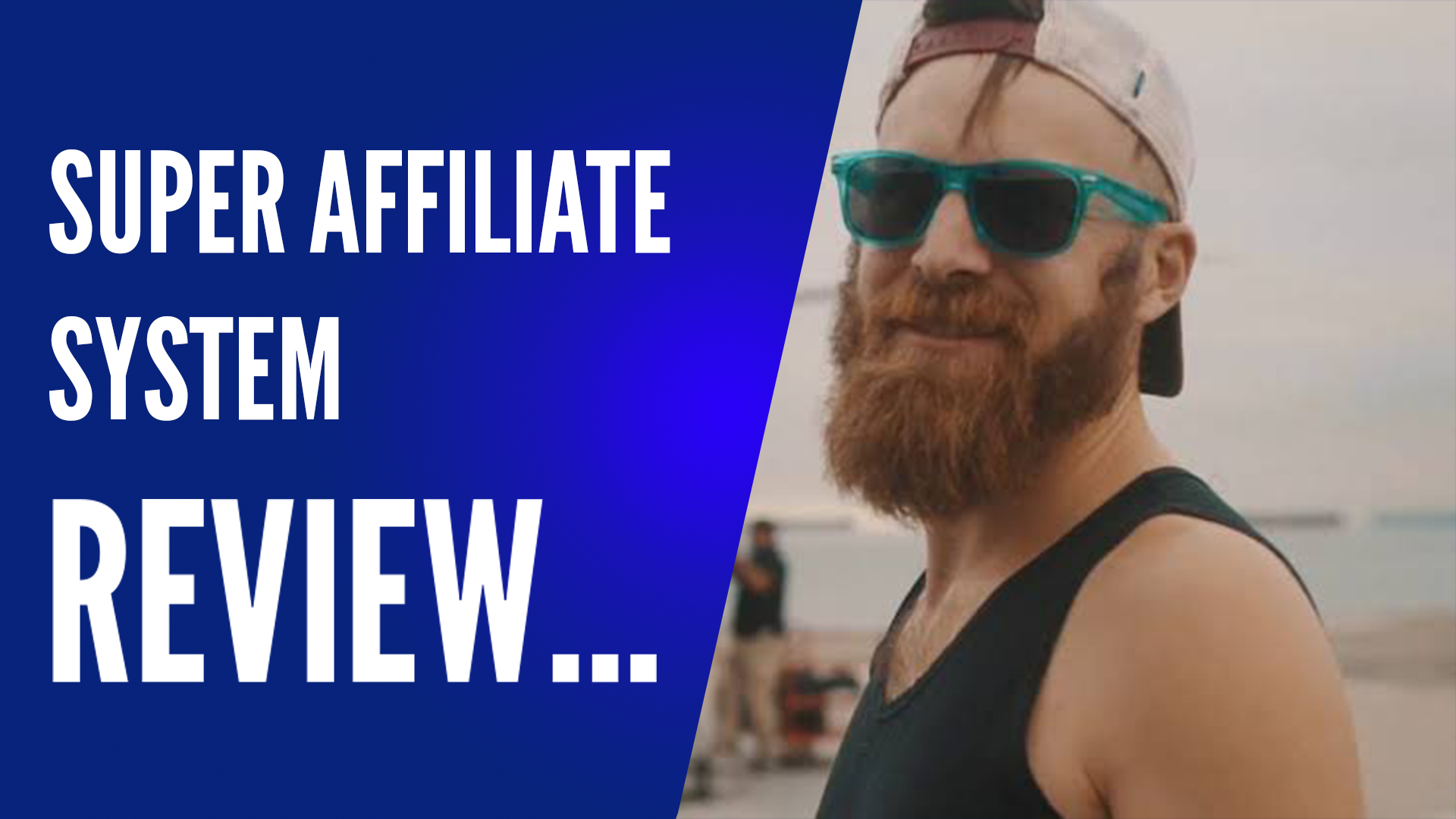 In today's article I'm going to be going over a detailed review on John Crestani's super affiliate system and I will strongly recommend you read this article till the very end because I will be revealing a lot of factors that you have to consider before you go ahead with spending a fat $997 on John Crestani's course… John Crestani's super affiliate system is something that I just got my hands on when it first came out and I finally did this review on  the product so that I'll help some people who might not really be informed or sure about the decisions they're about to make as regards buying some of these costly courses out here on the internet… And in this very detailed review, I'll be taking you through a lot of things that will help you make an informed decision on whether or not you should get the super affiliate system and they all are outlined in the table of contents below:
What Exactly Is The Super Affiliate System?
John Crestani's course is an affiliate marketing training that teaches you exactly how to make a full-time income or better said, a six-figure income by doing affiliate marketing with paid advertising and For those that might not know, John's course was first was launched in 2015 and I got it then and to be sincerely honest, I actually learnt a lot about Facebook ads from just taking johns course back then as I was super excited about the tactics that he used to get super targeted audiences and low cost per clicks that enabled him to advertise to the right audience in large scale for super low cheap prices which convert a lot at the end… And trust me, when I got the 2019 version of johns course, it was way better as I was completely blown away at the things that John taught in his training… And with that said, I'll go ahead and tell you guys why John's course is not for everybody…
Why Johns Course Is Not For Everyone!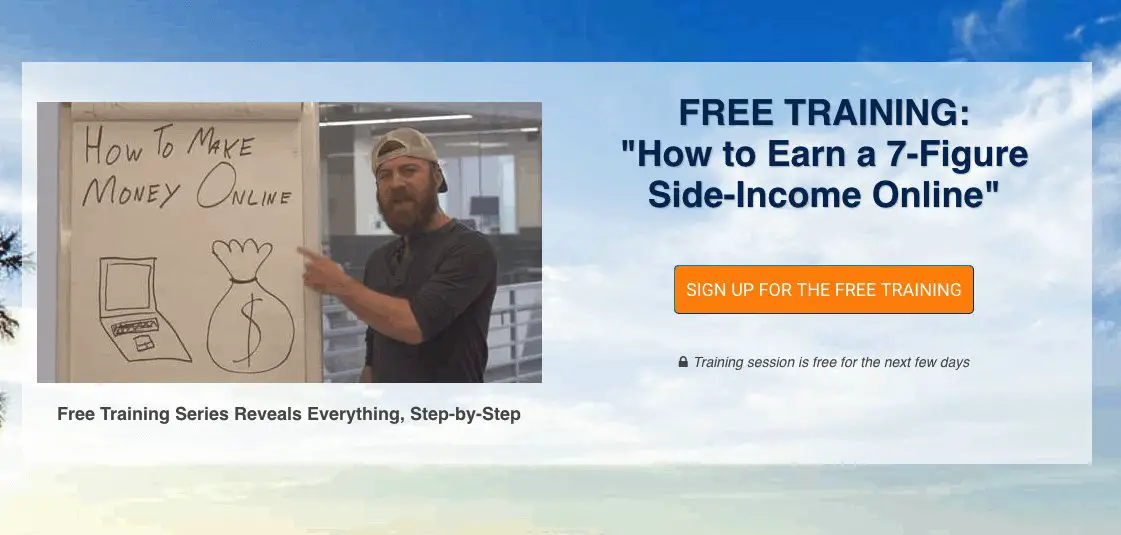 I know this part of me saying that "John's course is not for Everyone" scares some people but this review wouldn't be worth it if I didn't let you know that the affiliate marketing methods that John Crestani teaches in his course Are Those tactics that literally require you to invest some money in paid advertising and to do that, you'll obviously need to have some steady source of cash flow coming in already.. An I also bet you know that the super affiliate system costs you $997 and I know a lot of people might not have that much money to spend on a course that costly and don't worry I will still go over an alternative to johns affiliate training for people that are on a low budget & Don't get me wrong (if you have the money, then johns course would be the best affiliate marketing course that I would recommend to you) … In this review. (so, keep reading) as I'll be going over what it looks like on the inside and as well all that you'll be getting when you've paid and you're inside the training…
What You Get Inside The Course!
When you've made the payments and you're in the course… It should look something like what you see in the image below: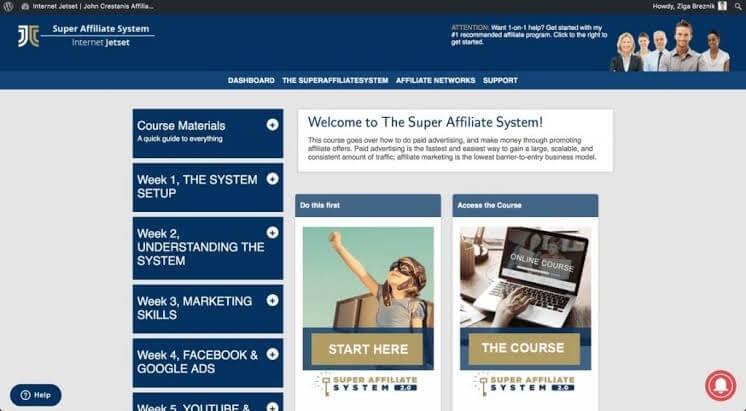 As you might have guessed, from the image above, you'll see that the super affiliate System is grouped into six different parts/weeks, which you're supposed to take on a "one part per week" schedule… These training videos will set you up on the right path to becoming really successful internet marketers that make serious bank using paid ads with affiliate marketing in just six weeks…
In the training you'll also get a bunch of done for you stuff that would really help you out when you start out your affiliate marketing journey… & these bonuses include stuff like, PRO ad-swipes, Perfect targeting data that would help you target the right audience while running paid ads, up to $800+ off paid ads and lots of other freebies that you receive from john whilst you're in the super affiliate system…
You will get training on using popular advertising platforms like Google AdWords, Facebook ads, YouTube ads & The rest of them! (but don't get scared by the fact that you have to learn and spend money on all of that as you'll just have to spend $5 per day and only scale up if you find a winning ad) and that's not all though (there's more & more)…
In the 6 week training, John takes you by the hand through a step by step process that even a grandma that has never used a mobile phone before would pick up easily and with that said, I'll go ahead and give you guys a weekly breakdown of what you'll get in each week of johns training…
Week 1: The Intro & System Setup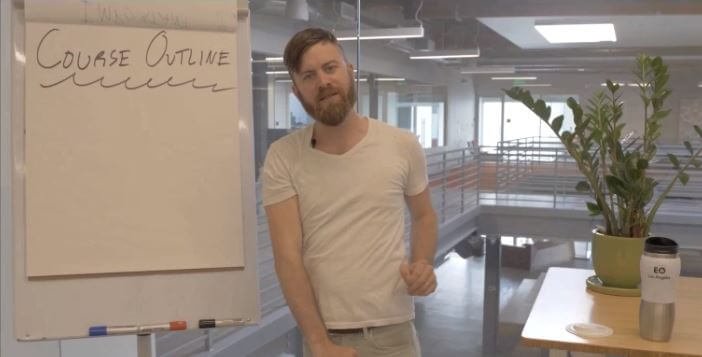 In the first week of the training, John will take you through how exactly your System should be set up and he breaks it down day after day as I have illustrated below:
Day 1: He takes you through goal setting.
Day 2: He takes you through how to join the right affiliate networks.
Day 3: He takes you through setting up your website.
Day 4: John takes you through setting up your presell pages.
Day 5: He shows you how to set up your Facebook ads the right way!
Day 6: He gives you a tip on how you can best work with affiliate networks…
If you're someone that has a little bit of knowledge with affiliate marketing, then you might already have mastered the some, if not all the skills that John goes through in the first week, but if you're a complete newbie to affiliate marketing then, the first week will be very beneficial to you!
Week 2: Success Skills
In the second week of the training, john Goes ahead and takes you through all the success skills that you would need in the business and these success skills are listed below:
Day 1: John takes you through developing an entrepreneurial mindset as he believes that that's the first thing you need for success!
Day 2: John takes you through researching your niche the right way so that you'll get to know what works for the audience that you're Targeting.
Day 3: John goes through Teaching you how to choose the best offer for maximum results.
Day 4: John goes through all you need t know about choosing the right advertising network/platform…
Day 5: John goes over how you should network for effective results in your affiliate marketing journey.
Day 6: John goes over why and how You should understand Intent…
Week 3: Marketing Skills
In the third week, John takes you through a bunch of skills that would help enhance your marketing and I go into detail on what you get from each day of the third week below:
Day 1: Here, John takes you through writing the perfect sales copy that would always convert your traffic into sales…
Day 2: John brings in a third-party pro-copyright known as Robbie Sandlin to teach you who is advanced copywriting skills as he's a professional copywriter and also one of copywriter and also one of the best hands in the field.
Day 3: John still goes in-depth into copywriting I Reveals his seventeen (17) pro copywriting steps.
Day 4: John takes you on a journey and shows you how to optimize your advert for the best results.
Day 5: Justice goes in-depth on optimizing and reviews are advanced optimization and tactics for a lower cost per clicks.
So, if you're someone that's been into advertising or even a beginner I strongly believe that this week will be very beneficial to you as copywriting is one of the factors that determine success with running adverts online.
Week 4: Mastering Facebook & Google Ads
In the fourth week of the training, John getting to the real deal teaching you guys how exactly you can run profitable Facebook and Google ads to suit the product that you are and I break it down on what he teaches you on which day of the week below:
Day 1: he goes through Facebook ads and all you need to know about it.
Day 2: he walks you through everything you need to know about Facebook ads compliance so that you don't get your Facebook ads disapproved.
Day 3: John walks you through all the important metrics that you should consider while advertising.
Day 4: John takes you Google ads and all you need to know about them.
Day 5: John invites another super affiliate known as Brian Pfeiffer to take you through on Facebook ads as he's one of the best hands in the market.
This is another powerful model when you get to get started into real online marketing…
Week 5: YouTube & Native Adverts
In this module of John Crestani's course, you get to learn all there is to running successful ad campaigns on ad networks like youtube and various native ad networks… I go further to break it all down into what he teaches on a daily basis below:
Day 1: John goes through how exactly you can set up profitable native ads on MGID
Day 2: John will take you by the hand & show you how to set up profitable ads on a network known as Outbrain…
Day 3: John shows you exactly how to set up profitable display native ads on another ad network known as Voluum…
Day 4: John takes you through the routes you should go while setting up profitable youtube ads…
Day 5: John invites another advertising expert known as Tim Burd to take you through on some core essentials…
Week 6: How To Scale & Outsource
In the sixth week of john Crestani's affiliate marketing training, you will learn a bunch of things that are all aimed at teaching you how to scale up and make the big bucks as an affiliate marketer… & I further break down everything that you'll learn day by day down below:
Day 1: here, john shows you how to make use of survey funnels while promoting products.
Day 2: John gives you a case study on how he was able to make a quick $240,000 promoting a product in the solar niche…
Day 3: John goes in-depth into scaling campaigns and literally shows how you can take campaigns that make about $1,000+ per day and scale the up to the point where they're making you about $20,000+ per day…
Day 4: John goes into outsourcing and shows you how to make use of media buying companies for your affiliate marketing business…
Day 5: John gives you another case study where he made thousands from a student loan product & also shows you how you can as well do the same…
with all that said you can see that there is a lot to be learned in johns supper affiliate system, but trust me when I tell you that there are no 100% perfect courses out there which is why I will be showing you some of the PRO's and CON's of this course that I think you must know before you make the final decision and I have listed them below:
PRO's: Things I Like About The Super Affiliate System
There is A bunch of stuff that I love about this affiliate marketing course and they include:
The first thing that I love about john's training is that it works and provides quick results, so if you're someone that wants t get rich quick and fast online, then John's course is the go-to affiliate marketing training for people that want to make money online…
The second thing that I love about the super affiliate system is that it is compatible for both people that are completely new to affiliate marketing and also people that have some kind of experience with the business model…
The third thing that I like is how john teaches and breaks everything down on a whiteboard so that everyone gets to understand what he's talking about… (if you watch John's youtube channel, you should know what I'm talking about here) – HE REALLY KNOWS HOW TO TEACH!
One other thing that I love about John's training is that if you're someone that already has some kinda information on using google, and facebook ads.. you will learn more advanced stuff that'll make you more successful than ever and if you're someone that has zero experience. Don't worry as john breaks everything down step by step for everyone…
CON's: Things I Don't Like About The Super Affiliate System
Here I'll go over all the disadvantages that I found in johns, affiliate marketing course as we all know that everything that has good sides equally has some bad sides to it and I'll list them all below:
One of the dis advantages that I find in john's affiliate marketing course is that he teaches just paid ads. But, don't get me wrong, paid advertising does work, but we all know that some people that are on a tight budget would not have all the money to test ads and make profits… I'm just saying that the course is not for everyone because you need to have some kind of financial comfort before you can exploit john's affiliate marketing strategy… So, if you're someone with a lot of financial stress, then you should not go for this course…
The other thing that I don't seem to like about the super affiliate system is that it does not teach other affiliate marketing strategies like, using youtube for affiliate marketing, using facebook, using twitter, using free SEO traffic, using question sites like Quora and other stuff like that… But, still don't get me wrong as I would strongly recommend you go and get johns training if you NO 1: can afford $997, NO 2: have some money for running Ads and NO 3: Want to see fast results (Like $20k profit in a day)…
What Other People Say About The Training
I have done research from all around the web and have come up with 3 screenshots of different people talking about the results that they have gotten from john's affiliate marketing training and I have attached them all below: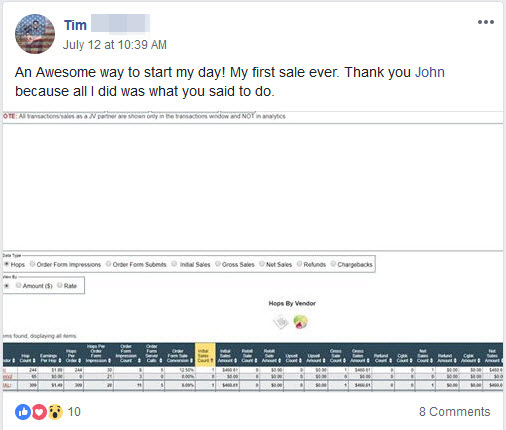 ---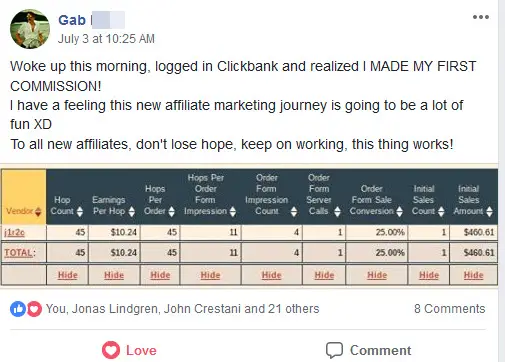 ---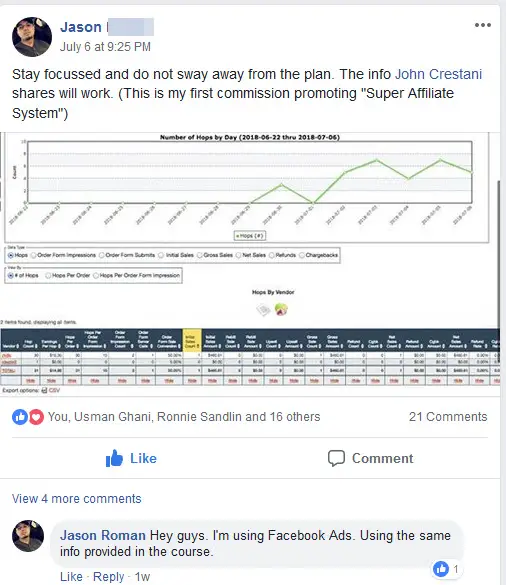 ---
In Conclusion: An Honest Advice
If you really want to take things to the next level with affiliate marketing and making money online, then, I tell you that this is a golden opportunity, because, If you can implement what john Crestani teaches you, then you'll surely be on your way to that $20k per day mark!
Get The Course With Extra Bonuses Here: www.SuperAffiliateSystem.com