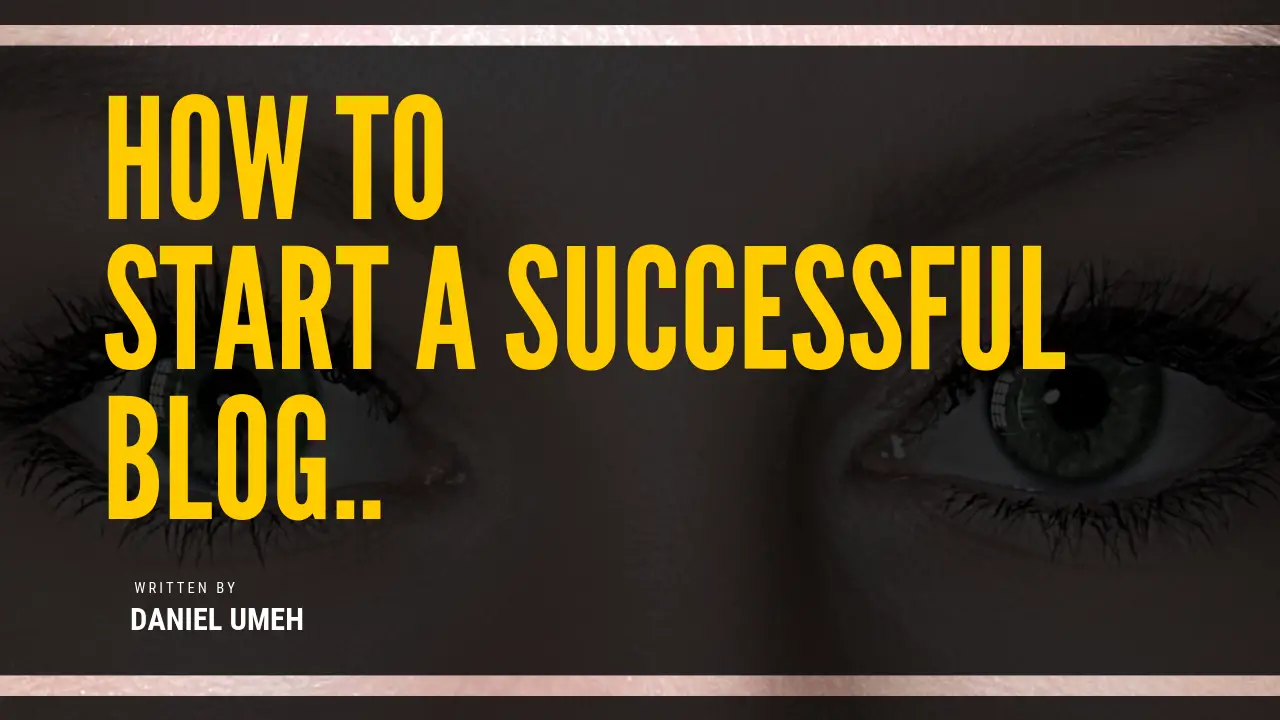 Today I'm going to show you guys how you can start a successful blog, grow it and as well make money from that blog.
And "YES" you heard me right! You can grow your income as a blogger to about $10k every single month with what I'll show you in this article and you don't have to worry as I'm going to show you exactly how you can do just it all STEP BY STEP in this very detailed article.
I'm going to take you guys through all the steps that I have used to start and grow multiple blogs Including one of my blogs that currently makes me about $40k+ every month in both passive and active income.
So with all that said let's get started!
When I'm starting new blogs I usually go through 6 simple steps and these steps include:
Finding and choosing a good domain name.
Choosing A Good hosting platform.
Choosing a Good theme to make the blog look Good.
Adding monetized content that's keyword optimized for SEO.
Getting the traffic to the content on your blog.
✌✌GETTING THE MONEY!!
So I'll go through all the 5 steps that I've shown you above and I strongly recommend that you open up maybe your phone or your computer and follow the steps as I go through them in order to get your website set up in just a short amount of time.
STEP 1: Finding & Choosing A Good Domain Name..
Your domain name is what people type into a browser in order to visit your website.. Despite the fact that it's most times hard whilst trying to make the right choice for a domain name it's very important for you to choose a name that represents you or what you do and at the same time will be able for people to remember so that they can visit your website over and over again..
A good example would be www.danielsmarketing.com and a bad example would be www.danielisabigsupermarketer.com. So you get my point, right?
As regards finding, choosing and checking if your chosen domain name is available I would use a service like Bluehost as it allows you to purchase both your domain name and your website hosting from the same provider which is really cool! All you have to do is to head over to the Bluehost website which you can do that by Clicking this link through which you can get a 60% OFF Bluehost. Once the page loads up.. Click on "Get Started" and you will be asked to simply enter your desired domain name and click on the Next button in order for Bluehost to check if your choice is available. It will look something like what you see in the image below.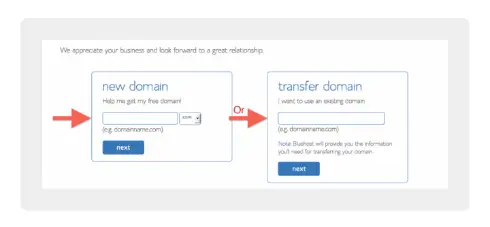 STEP 2: Choosing A Good Hosting Platform.
Once you have chosen your domain name in the first step what you'll have to do now is to set up your hosting account and choose the right package that will actually meet up with your blogging needs. All you have to really do now is to enter all the required information on the Bluehost website and after you've done that the next thing you should do would be to scroll down to the part of the page where it shows you Bluehost's different packages and what you should do now is to make a choice..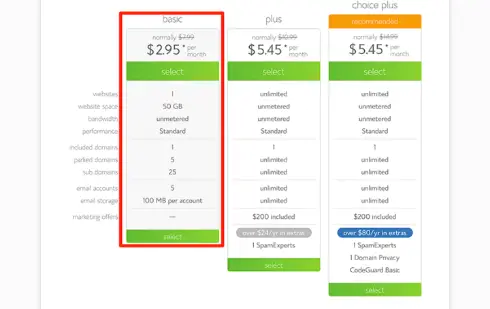 I strongly recommend you go with the basic package.. Once you've chosen that, It will show you three different payment options which will include:
An option that lets you pay upfront for 12 months..
An option that lets you pay for 24 months.. &
One that let's you pay for 36 months.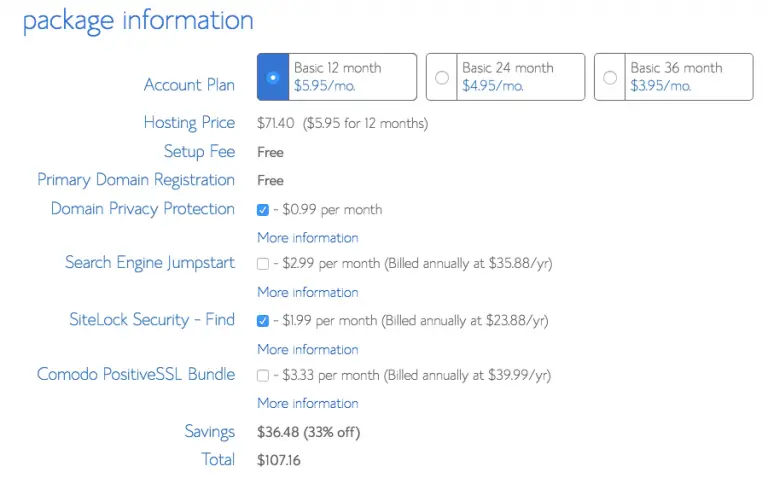 I would strongly recommend you use the 36-month option as it will drastically cut down the price for you.. Once you have decided on which payment option to use what you should do next, would be to scroll down and complete your billing information in order to make your payment. I also recommend you take out a few minutes to read through the Bluehost terms of service, cancellation policy, and privacy notices. Once done, click the checkbox to confirm that you agree with Bluehost's policies. Then, follow the instructions given on-screen in order to create a password and once done You're ready for the next step of creating your blog.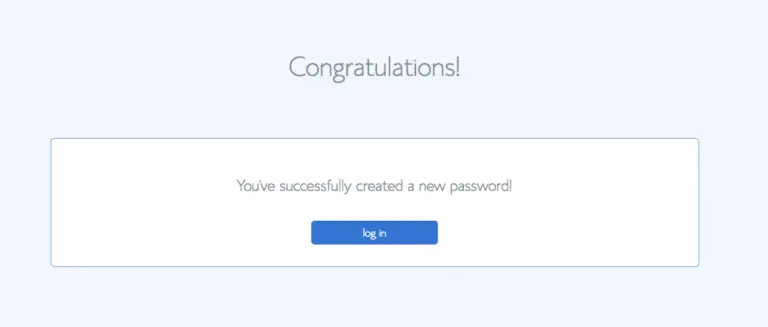 STEP 3: Choosing A Good WordPress Theme For Your Blog.
One good thing about this part is that if you have used Bluehost as your preferred hosting company then WordPress will automatically be installed for you on your blog. So all you have to do now is to click on "Login" and enter the details you used to create your Bluehost hosting account and once you've done that the right way you'll be logged into a dashboard where you'll be required to choose your theme. It'll look something like in the image below: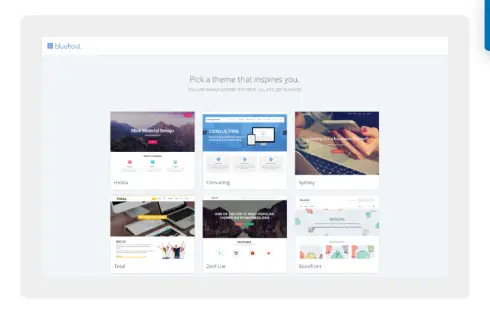 And if you're confused about what team to choose don't really worry about that as it can be changed at any point in time. Once done you'll see a page like the one below: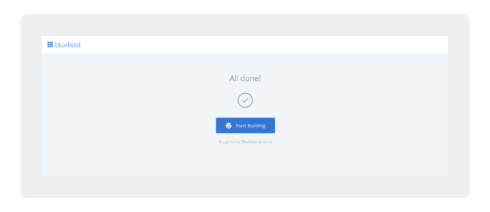 Once you're done with that you should see a screen that will ask you if your website is for personal or business reasons just choose any of the options and head over to the next year we should look something like what you see in the image below.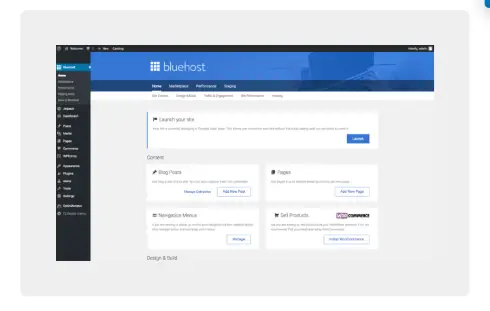 And this is the part where we should start creating content so that we can make money using the content. So to add a new article just click on the "add new" button that is below the blog posts section as you can see in the image above.
STEP 4. Adding Monetized Content To The Blog.
This would be the most crucial part of making money from your blog and we can simply add monetized contents to the blog by writing blog posts that we know people will read and need and then adding affiliate links to those blog posts.
For those who might not know!
You're going to be monetizing and making money off your blog with affiliate links and affiliate links are links that make you money each time someone clicks over and makes a purchase.. whether you're in the fitness niche, make money online niche, weight loss niche, cars/automobile niche or even the fishing niche.. There are lots of companies out there with affiliate programs that will pay you commissions ranging from about 20% – 90% of the sale price when you refer people from your blog to buy stuff from their website through your affiliate link..
So first of all.
To start you need to choose a niche and I will strongly recommend you choose something that you have a little bit of knowledge about.. or as well you can choose a niche that you have no knowledge of at all and actually pay people to write articles for you on Fiverr. Once that's done. The next thing you do would be to find affiliate programs that will pay you money and after you found is affiliate programs, the next step would be to write articles that will promote those products that you have signed up for as an affiliate and integrate your link into the articles on your blog. That's actually how you can go out and create monetized content on your blog and with that said we'll head over to STEP 5.
STEP 5: Getting The traffic To The Content On Your Blog..
This is the most important part of this article as you have to know that without traffic you won't be able to make any money online from your blog but don't worry I'm going to share with you the exact traffic generation methods that I have used to make over $40k from one of my blogs in just a month..
So, Let the fun begin!!
Traffic Method #1: Quora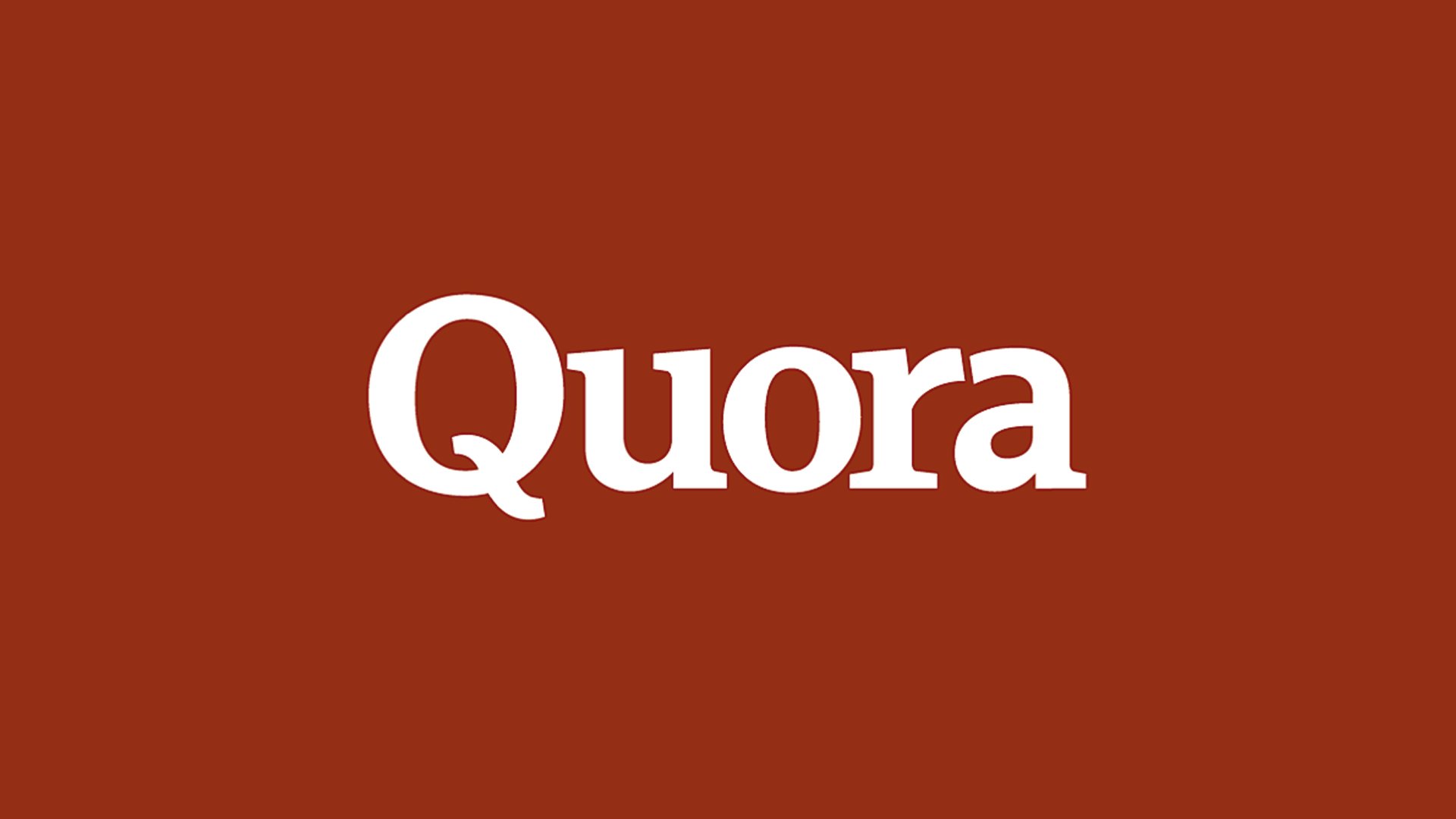 Quora is a question-and-answer website where people come to ask questions and as well answer various questions on the platform..
You can tap in to this huge traffic source by Simply heading over to the quora platform, getting your account created, finding people whom are asking questions that are related to what the monetized content you have created is about, answering those questions and then linking back to the articles on your website.. You can see Stats from one of my quora Accounts below: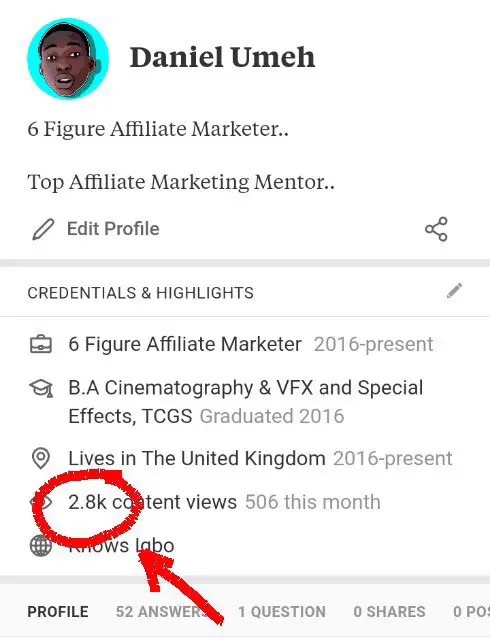 When you write answers on quora and link back to your website.. What would happen is that when people woman looking for answers come to the quora platform and see your answers they would read the answers on once they don't ring the answers they would click over to your website to learn more and as well get more answers to the questions that they have and this way you can get a lot of traffic over to your monetized blog posts and as well a lot of traffic to your affiliate link which will make you the money..
Traffic Method #2: SEO
When I talk about getting traffic from SEO.. I don't really refer to the Ethical SEO which a lot of time work and sleepless nights to get your websites to rank on the first page of Google.. I mean ranking on Google quickly for small low competition keywords..
Basically, what you have to do to achieve results and get traffic to your blog by ranking a small volume keywords can be done in 5 simple steps which includes:
STEP 1. Heading over to Google's keyword planner…
STEP 2. Finding low competition by clicking on "tools" and then "keyword tool"
STEP 3. Entering a catchphrase.. digicape related to what your audience are likely to be searching for On google.. For example: people who are looking for how to lose weight search for phrases like "weight loss tips" I know you have to do is to enter that into the Google keyword planner and hit search..
STEP 4. Once the keyword planner gives you results you can then check for search phrases that have low competition scores. You can see an example of what I'm talking about in the image below: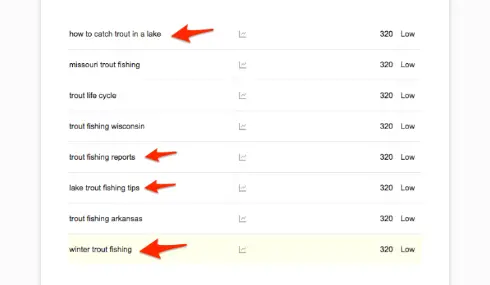 STEP 5. Now that you have a list of low competition keywords in your niche. All you have to do is, to go and create monetized content around all these topics and what will happen is that you will start to rank for these keywords on Google Low competition keywords which will result to more traffic to your blog and as well more money in your bank..
Traffic Method #3: Blog Comments
posting comments on blog posts related to the nature of chosen is a very effective way of getting free traffic to your blog..
To start seeing results via blog comments, you would have to head over to Google and search for what your blog is about.. For instance: "fishing articles" you searched for this key phrase on Google you have to set the results that you want Google to show you to be articles that were posted in the past 24hrs and what this will help you do is that it will help you get your comments approved faster as those articles are new and are likely to have 0 comments..

Once you've found these new articles what you would do would be to write a very good, long and relevant Comment and at the end of the Comment link back to your monetized articles on your website. That way when these posts that are relevant to your niche start to go viral, your comments will be at the top and lots of people will click over to your website to check out your content.. and that way the traffic and the money will keep increasing.
Traffic Method #4: Niche Related Forums
You can find forums that are related to the niche you have chosen and actually become active on these various forums.. that way you will be able to interact with people who are interested in what the content on your website is all about and as well while interacting make sure you drop links to monetize content on your blog.. You can find forums related to your niche by Simply heading over to the Google search engine and typing in "whatever your niche may be" ± the keyword "forum".. I found this phone connected you should take me to sign up for account on those ones that are highly active and once you've got your account or set up the next thing you should do will be to become active on this phone's so that you will be able to interact with people who mainly interested in what the content on your website is about and as well link to your content so that you'll start getting traffic to your blog..
Traffic Method #5: Niche Guest Posts
This method of generating traffic to your website would simply require you to actually connect with other bloggers in your niche and asking them to publish articles on their website which will link back to your own website.. I really love this method cause it'd like you're stealing their traffic.. what you should do to find blocks in your niche that are accepting guest post who will be what you see in the image below: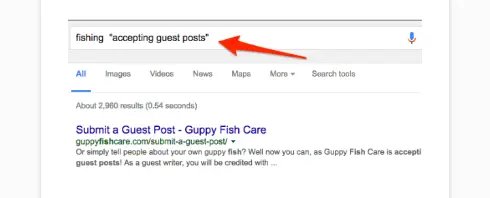 Once you have found a bunch of blogs in your niche that accept guest posts by doing what you see in the image above, the next step you should take would be to write a bunch of posts that you will submit to all these blogs and Yes writing will take a lot of time and as well Be a pain in the ass, but if you have some spare cash you can find writers here that will do all the writing for just $5..
Traffic Method #6: Facebook Groups
Facebook groups are a huge source for getting traffic to one's blog and I know this works because I've used this to get a lot of traffic and a lot of sales and one good thing about Facebook groups is that they are Filled with super targeted people who are 100% interested in what you do on your blog..
In order to start getting traffic from Facebook groups all you have to do is to head over to the facebook website and once you're there all you have to do is to go to the search bar and enter your "niche name" + "groups". Once done you will see Facebook show you a list of groups that are related to the niche you have entered and what you have to do next to be to join all these groups and become an active member.
Once you have become a member of these groups the next thing you should do would be to find people whom are In need and are asking questions.. Answer them and as well link over to content on your website that is relevant to their question. That way you'll get a lot of niche targeted traffic and as well the money will follow the traffic.
Traffic Method #7: Building An Email List
NOTE: This is A Must Do!
When you build an email list and collect emails of people who have visited your website this will enable you to send out emails to them each Time You release a new blog post on your blog and once you send out these emails you can generate a ton of traffic immediately and these returning readers will then share your post on their social media profiles which would put out your content to more eyeballs and as well make you more money..
I use Getresponse for my email list building campaigns and management. You can use GetResponse free for 30 days here.
In order to create popups that will help you collect emails of the readers that visit your blog, I will strongly recommend you use a WordPress plug-in which is popularly known as thrive leads.
STEP 6: ✌GETTING THE MONEY!!
What happens in this time of starting a blog is very simple. You'll start to get the $$$!!. I'll have to end it all here but if you still have any questions as regards starting your blog feel free to ask me in the comments section of this article & also watch the video below for an in-depth walk-through on how you can start your blog. TODAY.
Still Got Questions? WATCH THE VIDEO BELOW!