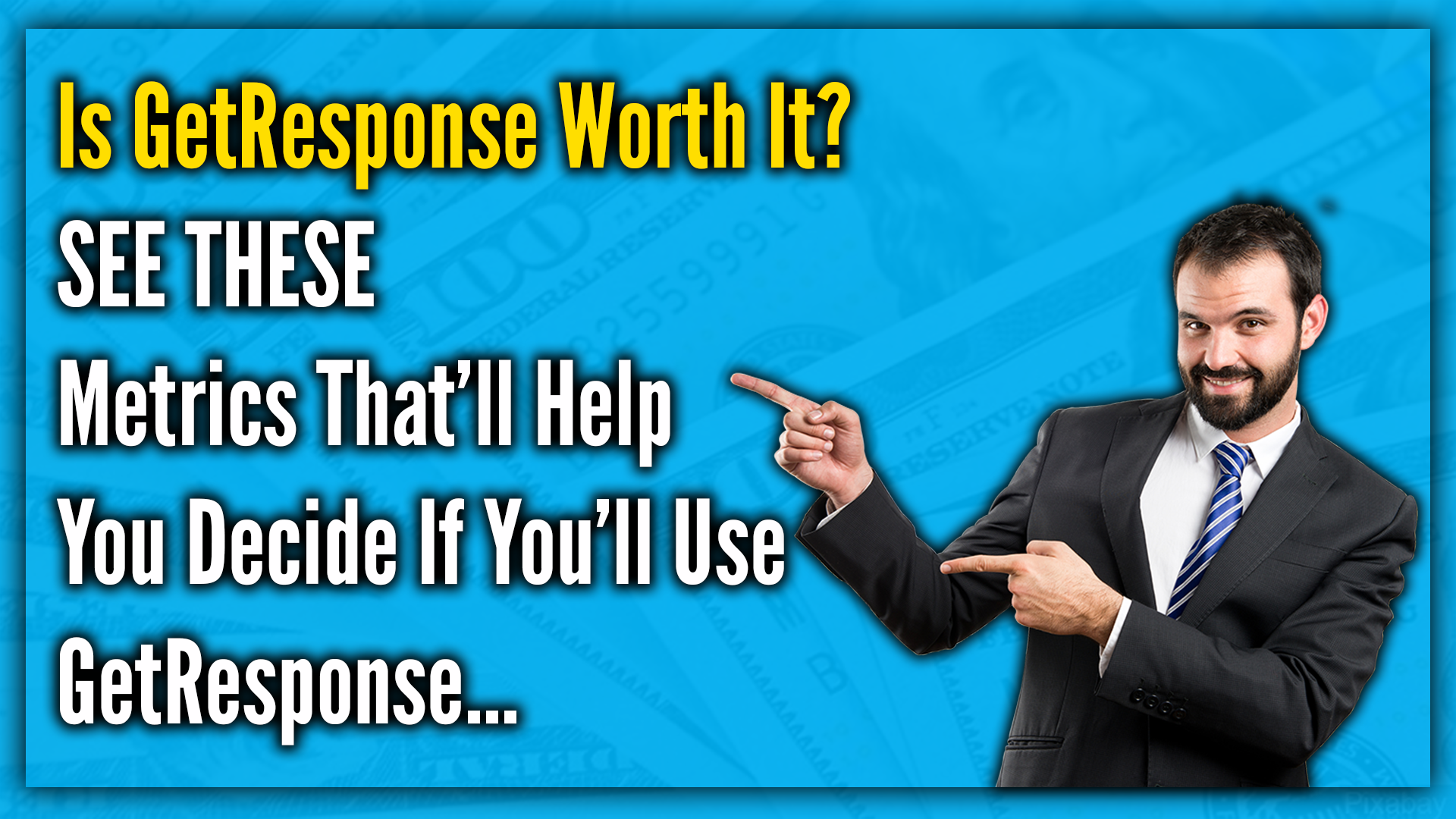 In this Getresponse review, we'll be taking you through a lot of metrics that'll help you decide whether or not to go ahead with Getresponse and these metrics include:
An overview of Getresponse
Getresponse's pricing
Comparing Getresponse to Its competitors
Getresponse's features &
The PRO's & CON's that come with Getresponse.
So, with all that said let's get right into the review on Getresponse below:
An Overview: What is Getresponse?
Getresponse is an e-mail marketing app which allows you to:
Import and host a mailing list as well as capture data onto it.
Create newsletters that can be sent to those subscribers on your mailing list.
Automate your emails to the subscribers through the use of 'auto-responders'.
View as well as analyze statistics related to your e-mail marketing campaigns – open rate, click-through, forwards and more.
In recent times, however, Getresponse's feature set has evolved to the point where it has become more of an 'all-in-one' marketing solution.
Additionally to email marketing, it now also provides webinar hosting, landing pages, and some customer relationship management ( CRM ) functionality.
These features will be discussed in-depth as we go on but for now, let's consider pricing.
Getresponse's Pricing
Three major types of Getresponse pricing plan exist –
The Email Package
The Pro Package &
The Max Package…
Within each type, there are several additional types of plan to choose from, all of which is based on list size:
1 to 1,000 subscribers costs $15 with the Email package, $49  with the Pro package and $165 with the Max package…
1,001 to 2,500 subscribers costs $25 with the Email Package, $49 with the Pro package and $165 with the Max package…
2,501 – 5,000 subscribers costs $45 with the Email package, $49 with the Pro package and $165 with the Max package…
5,001 – 10,000 subscribers costs $65 with the Email package, $75 with the Pro package and $165 with the Max package…
10,001 – 25,000 subscribers costs $145 with the Email package, $165 with the Pro package and $255 with the Max package…
25,001 – 50,000 subscribers costs $250 with the Email package, $280  with the Pro package and $370 with the Max package…
50,001 – 100,000 subscribers costs $450 with the Email package, $490 with the Pro package and $580 with the Max package…
And In addition to this, there is an "Enterprise" plan for those users who have email lists of over 100,000 email addresses. This begins at $1199 monthly, with its exact pricing depending on the requirements.
NB: If you are interested in the "Enterprise" plan, there's a need for you to contact Getresponse to schedule a demo, outline your needs as well as discuss pricing.
Making upfront payments for about 12 or 24 months of GetResponse makes significant discounts of 18% and 30% respectively available to you. It is noteworthy that this is considerably more generous than most other competing platforms.
Major differences between Getresponse's pricing plans:
Every Getresponse plan covers the important basics, the main features of which include –
Ability to import, grow and host an email database.
Wide range of templates.
Autoresponder functionality.
Responsive email designs.
Split testing.
In-depth reporting.
RSS / blog to e-mail functionality.
Comprehensive segmentation options &
Social sharing tools.
Despite the fact that there are a number of differences between the email, Pro and Max plans, I consider these the key ones:
CRM – There's a customer relationship manager tool on the Getresponse 'Pro' plans up.
Landing pages – The landing pages that allow split testing and unlimited views can only be availed by you if you are on a 'Pro' or higher plan.
Webinars – This functionality isn't available at all on the 'Email' plan while the number of webinar attendees is capped for the 'Pro' and 'Max' plans at 100, 500 respectively. NB: It's not clear what the limit is on the 'Enterprise' plan.
Users – While you can only have one user account on the 'Email' plan, you can, by contrast, get 3 on the 'Pro', 5 on the 'Max' and 10 on the 'Enterprise' plan.
E-commerce – The full set of Getresponse e-commerce tools which include integrations with a few popular e-commerce platforms can only be availed by you if you are on a 'Pro' or higher plan.
Comparing Getresponse To Its Competitors
The pay per month Getresponse plans is generally cheaper than those of many of its key competitors as long as you're using one of the entry-level Email plans. This is especially so if you have a reasonably large number of email addresses on your database.
For instance, you will discover that a mailing list that contains between 9,000 – 10,000 records that you wish to send an unlimited number of emails to on a monthly basis if hosted with Getresponse, will only cost $65 every month.
This, in other words, is $4 per month cheaper than with Aweber, $10 cheaper per month than with Mailchimp and $84 per month cheaper than with Campaign Monitor…
Campaign Monitor's pricing structure is dependent on not just the number of email addresses on your database but also on the number of emails you send every month. If you are contented with limiting the number of emails you send via Campaign Monitor ( going by the example above to 50,000 emails), you can then expect to make a monthly payment of $89 which is still considerably more than that of Getresponse.
Mad Mimi is the only well-known service that readily comes to my mind which is significantly cheaper. It charges $42 monthly to host up to 10,000 email addresses. It should be noted, however, that the functionality that Mad Mimi offers is nowhere as extensive as that of Getresponse or that of the other products aforementioned.
It's also noteworthy that Mailchimp offers narrower pricing bands. This implies that depending on the size of your list, it might stone be a slightly cheaper option than Getresponse.
At the smaller database end of things, Getresponse's pricing is equally pretty competitive – a database containing 1,000 email addresses can be hosted for $15 per month with Getresponse, as compared to $29 monthly with Aweber, and $59 monthly on Campaign Monitor (unlimited send).
Mailchimp's fee per month for a 1,000 record database is the same as that of Getresponse while Mad Mimi charges a slightly cheaper, and much less functional offering of $12 monthly.
Lastly, on the pricing front:
Some competing providers, notably Mailchimp, offer totally free accounts for users with small number of records. Note, however, that these do not offer the whole range of features that you get on paid plans.
As previously stated, if you are ready to make an upfront payment for 1 or 2 years, you avail yourself of substantial discounts that the other competitors don't yet provide.
So, in summary, Getresponse is pretty competitive in the pricing section.
Getresponse's Features
The feature set of Getresponse is undoubtedly one of the most comprehensive available as not only does it provide all the key stuff you would expect from an email marketing platform such as list hosting, templates, autoresponders, analytics and more, but as already discussed above, it's recently been expanding the feature set to the point where it's evolving into an all-in-one / CRM – style digital marketing platform leaving one with the question of whether Getresponse is a jack of all trades and master of none.
Let's delve into an analysis of its key features to find out:
#1. AutoResponders
Autoresponders are e-newsletters which are sent to subscribers at intervals. You can determine and set them up such that immediately somebody signs up to your mailing list, he/she receives a welcome message from your business; one week later, they could receive a discount offer for some of your products/services; three weeks later, they could receive another message encouraging them to follow you on social media, etc.
The Getresponse's autoresponder functionality is a key selling point as it provides one of the most comprehensive features sets available.
You can either send time-based or action-based messages. Time-based options include cycles as in the example given above while action-based messages can be triggered by user actions/information.
For instance:
Opens
Clicks
Subscriptions to particular lists
Changes in contact preferences
Completed transactions / goals
Birthdays
Changes in user data etc.
Recently, a new version of Getresponse's new autoresponder functionality called 'Marketing Automation' was launched.
It enables you to create automation workflows using a drag and drop builder — where you basically set up an 'automation flowchart' which instructs Getresponse on what to do if a user, for instance, opens a particular offer, clicks on a certain link, etc.
This type of functionality goes way beyond what's traditionally been offered by other autoresponders and lets you create a user journey that can be customized to the highest degrees.
For a quick overview, I'd suggest you take a look at Getresponse's video overview for Marketing Automation shown below:
#2. Analytics
Getresponse offers some very detailed analytics and reporting options. Inasmuch as getting such basics as — open rate, click-through, unsubscribe rates, etc., there are also some very nifty features that are worthy of mention such as:
Getresponse's analytics section
'One-click segmentation': This gives you the option of identifying those people that did not engage with an e-newsletter you sent and putting them in a segment of subscribers which you can then email again with a different version of the e-newsletter.
'Metrics over time': This enables you to know the exact time that most of your subscribers take action on your emails, and the time your future mailouts on the basis of this information.
'Email ROI': Adding some tracking code to the post-sales page on your site, you can determine how effectively or ineffectively your email campaigns are driving sales, and as such work out your return on investment in email marketing.
Per-user information – This enables you to click on any one of your subscribers and see where they signed up from, their location and the emails they've previously opened.
Even though MailChimp and Aweber offer some similar reporting functionality especially around sales tracking, Getresponse's reporting tool is obviously one of most featured out there; clearly trouncing the stats options offered by Mad Mimi and Campaign Monitor.
#3. Split testing
Split testing functionality is another Getresponse's feature that stands out.
It's more comprehensive than what's provided by most competitors as it enables you to split test up to five different messages.
Contrastingly, Campaign Monitor allows 2 while Mailchimp allows 3 on its cheaper plan. More is available on the 'Pro' feature but at a cost of a mouth-watering fee of $199 monthly in addition to the standard Mailchimp monthly fees.
Aweber allows 3 while Mad Mimi does not provide split testing.
In effect, if you are interested in split testing, Getresponse is worthy of special consideration.
Getresponse e-newsletter templates
On templates, I'd give Getresponse a 'B' grade.
On its plus side, there are tons of templates, over 500, to choose from. These are all presented in easy-to-understand categories, so much so that it's not only straightforward to find a good starting point for a template but also easy to edit to your desired design.
In addition, the templates are very tweakable and let you change fonts, layouts, and imagery with ease using the controls provided. As a matter of fact, nothing stops you from simply designing your own HTML email template and importing the code for it.
It should be noted, however, that despite the fact that the quality is pretty good, with few stand-out options available, the templates are undoubtedly not quite as attractive as those offered by some key competitors, especially Campaign Monitor.
It is also worth pointing out that the range of RSS-to-email applications options on the Getresponse's templates is not so extensive as only 11 templates are provided – a far cry from the 500 or so that's available for regular newsletters. As such, I think that some improvements should obviously be made in this regard.
If, in the long run, you're not satisfied with the templates that Getresponse provides, you have the option of buying one from a third party supplier such as Theme Forest.
Responsive email designs
This automatically adjusts your e-newsletter's template such that when a user reads it on a mobile device, the layout and fonts are automatically optimized for the device in question. This responsive email functionality put Getresponse ahead of its competitors for quite some time.
Even though, most competing products have caught up on this now and also offer responsive email templates, Getresponse is still better than most of such similar products when it comes to displaying responsive previews of your e-newsletters – here you simply hit a 'mobile preview' button and you get an instant snapshot of what your email looks like on your smartphone (see image right).
In addition to this, you can 'flip' the smartphone preview around, and be able to preview what your email looks like when the screen is used either in portrait or landscape mode.
#4. Getresponse's Landing Page Builder
Getresponse offers a 'landing page creator' which many of its competitors don't. It's not only very useful but also mobile-friendly to boot.
Campaign Monitor and Aweber require that you pay for and use Unbounce or Instapage which is a third-party landing page creating tool.
Even though Mailchimp recently introduced some landing page functionality, it isn't yet as sophisticated at that of Getresponse.
Note, however, that you need to be on one of Getresponse's more expensive plans to get the fully-featured version of its Landing Page Creator.
In other words, the Getresponse landing page functionality is limited as you can only create one landing page which can be displayed for only 1,000 times monthly except you are on a Pro, Max or Enterprise plan of Getresponse.
Again, it is worthy of note that Getresponse's cheapest plan is not suitable for you to use the landing page A/B testing functionality in which the system shows samples of your users' different versions of your landing page, calculates the conversion rates and eventually rolls out the best performing landing page.
If you must use the landing page — which undoubtedly is a useful feature — then the more expensive Getresponse plans are worth considering.
The Landing Pages feature can be bought as an add-on for an additional $15 monthly. Note, however, that the add-on only allows you to display an unlimited number of landing pages to potential subscribers but does not include A/B testing.
In view of this, I'd suggest that you go for one of the more expensive Getresponse plans, which probably is what Getresponse wants, and not bother about the add-on.
In spite of the fact that you should be on a more expensive plan so as to fully access the landing page functionality, it's an excellent feature to have added bundled with an email marketing plan.
#5. Webinars
The ability to host webinars on the platform was only recently introduced by Getresponse.
The idea of having both your email database and your webinar tool under the same roof is extremely appealing given that webinars are widely used as a lead generation tactic.
In comparison to established webinar solutions, the pricing also is very competitive. For instance, Gotowebinar – a leading webinar service, charges $199 monthly to host webinars with attendees of up to 500. You can do same and much more, but obviously with Getresponse whose charge is $165 ( once your list size is less than 10,000 email addresses).
On the issue of attendee limits, the Getresponse Pro plan lets you host a webinar with up to 100 participants; while the Max plan's cap is 500.
You may also consider buying webinars functionality as an add-on to a cheaper plan as a 100 and 500 attendees limit is charged at $40 and $99 monthly respectively. It's unclear what the options are for you if you need to host larger scale webinars than this.
Some particularly useful Getresponse webinar features worth flagging up include:
Your attendees need not install any software to attend the webinars.
One-click record of your webinars.
Screen sharing functionality.
Free online storage for playback files.
Summarily, webinar functionality is essentially a very useful feature to include in your e-marketing arsenal and having it as a feature gives Getresponse a very significant edge over its major competitors, especially when you consider linking it with a built-in CRM tool.
#6. Getresponse's CRM
One obvious aspect of using many popular CRM tools to export data to CSV and back into the email marketing tool so as to do mailouts (or to import data from your email marketing tool into your CRM to add leads to it) is that it can be very frustrating.
My intrigue, therefore, knew no bounds when Getresponse recently incorporated a new CRM feature into their plans – this, for me, is the end of all the data exporting and importing as I can now keep everything neatly in one place.
Initially, though, I wasn't much impressed with the Getresponse CRM tool as it could only be used to perform such basic tasks as creating sales funnels, adding contacts to them and tracking activity (emails, phone calls, etc.) with the contacts manually.
Recently, Getresponse has slightly upped their game on this front with the CRM now integrated with the whole of Getresponse's email marketing functionality, so you can add users to a CRM pipeline on the basis of their activity ( such as form completions, email opens, purchases, etc.) or trigger autoresponders on the basis of adding a new contact to a pipeline stage.
An example of how this functionality could be used is as follows:
You can add a contact to a specific stage of a sales pipeline based on the page of your site where they completed the form.
You could then send an automated email tailored to that pipeline stage to them a few days later.
And depending on the action they take with regard to the email (clicking on a certain link etc), you could both automatically move them to another stage of the pipeline and invite them to a webinar.
This stuff is so clever that I can't think of any other similar email marketing product that offers such tight integration of autoresponders with CRM pipelines. For this type of functionality, you'd usually need to consider the dedicated and more expensive CRM products like the Salesforce and Infusionsoft.
However, it's not all rosy on the CRM front as there are some tangible things which are missing from Getresponse's CRM feature set.
The most distinct of these omissions is email activity tracking.
Some other CRM packages would let you bcc a dropbox email address whenever you send an email to a lead/client, and doing so records the communication which is kept in the contact's history. With the Getresponse CRM, there's presently no way of doing this, neither is there an easy way of sending one-to-one emails to leads or clients.
And funny enough, when you click on a contact within a deal pipeline, their contact activity like the actions they've taken (open, clicks, etc.) with regard to previous communications that you've sent to your leads are not seen/displayed. To view this, you need to leave the CRM section of Getresponse and look for your contact in the contacts section and click on their details. Even at that, their deal history is still not displayed.
Task management is non-existent too: There's no means by which you can assign tasks to other team members as you can on dedicated CRM tools.
Finally, it's not easy to add contacts to a pipeline stage since you have to firstly, add the contacts to a list before proceeding to the CRM pipeline – add a deal and search for the just-added contact on your lists. This is not only clunky but also time-consuming going by usability.
The ideal thing should have been for you to add a deal directly to a pipeline and input the contact details of your lead/client there and then.
That said, the Getresponse CRM can be said to be half-baked but being a new feature and with its impressive performance on the automation side, one can only hope that this feature gets developed over time because done right, it would be a potential game-changer for entrepreneurs and SMEs.
Getresponse's CRM functionality is tightly integrated with its email marketing automation.
#7. Data Management & Deliverability
You can either use the 'single opt-in' or the 'double opt-in' process to add subscribers to your mailing list.
With a single opt-in process, the person signing up to your mailing list gets added to your mailing list once they hit the submit button on your sign up form but with a double opt-in process, the person receives an email containing a confirmation link which he or she must click on before being subscribed.
The single opt-in process and the double opt-in processes have their benefits. The single opt-in process not only makes it quite easy for users to subscribe to your mailing list but also generally increases conversion rate and thereby the number of subscribers on your list. The double opt-in process stands out when it comes to verifying whether the people that are subscribing to your list are using real email addresses; which invariably leads to cleaner data with more accurate stats (as open rates etc. are calculated based on a list that contains real email addresses only).
It is heart-warming to observe that Getresponse, unlike all other competing products, allows you to make use of either of the two opt-in approaches. In view of this flexibility, I don't think it will be amiss to give Getresponse a 'thumbs up'.
#8. Data Capture & Forms
In Getresponse, you can use forms in two different ways: it's either you add an HTML form which you style yourself or you design your form in Getresponse (select from a wide range of decent templates then tweak them to match the design of your site). Choosing to use the latter route means that you can add the form itself to your site by using a snippet of code that runs some Javascript to display your form — which can be shown in a range of different formats (for instance – inline, pop-up or slide-up).
Despite all that has been said, I think there's still plenty of room for improvement with regard to Getresponse form templates.
For one, they are not responsive – meaning that they won't automatically resize themselves to suit the device they're being viewed on.
Moreso, Getresponse doesn't offer any controls for switching forms on or off on specific devices/individual pages of your site. And going by Google's new approach to pop-ups (in which sites can take a hit in search results if on mobile devices they display 'intrusive interstitials'), this becomes quite a cause for concern.
To circumvent this hitch, you can leave off using Getresponse form templates, and use HTML embedded forms which you should style me. And for the popups, you could connect your Getresponse to Sumo which is a growth-hacking tool. This tool not only enables you to switch pop-ups off for mobile users, but also display forms the exact way you'd like them to and on the pages you want them.
#9. Data Segmentation Options
One thing that stands Getresponse out of the pack is the fact that with Getresponse, you can send or exclude multiple segments of data at a time. This isn't so with some key competitors of Getresponse including MailChimp and Aweber.
For instance, assuming that you have a mailing list in Getresponse which you divide up into four segments:
– Segment A
– Segment B
– Segment C
– Segment D
With Getresponse, it's pretty easy to message segment A, B and C one time ( by just ticking three relevant checkboxes). You could also message segment B and C only and exclude segment D.
Not only can you message / exclude multiple segments one time, but you can also do same with individual lists – for instance: if in Getresponse, you had three separate mailing lists, you could message individuals across all three of them – flexibility that singles Getresponse out from its competitors.
Although, Campaign Monitor offers a similar level of flexibility, it comes at a price.
Getresponse's flexibility is probably one of the biggest argument in its favor overusing its key competitor, MailChimp, which only unlocks its advanced segmentation features when you subscribe to its highly expensive 'Mailchimp Pro' Plan.
Getresponse's approach of not referring to its data segments as 'data segments' but rather as 'saved searches', can be slightly confusing. But so long as you keep that in mind, you're good to go.
#10. Getresponse Deliverability
The email deliverability rate — One thing that's obviously worth considering when choosing an email marketing tool is the percentage of the sent e-newsletters that successfully reach the inbox.
It's well-known that not all email marketing providers are open forthright about their deliverability rates. But Getresponse, in this regard, is forthright, with this to say on their website:
At GetResponse we are frequently asked about the quality of our deliverability rate. Because deliverability depends on many factors, including the content of your messages, the deliverability rate could vary for each mailing. For all our customers collectively, however, we are proud to say our overall deliverability rate currently stands at 99%.
This, to me, is a good rate. If this is true, going by the company's word, you should be inspired and more confident knowing that the vast majority of emails you send with Getresponse will ultimately get to their intended recipients.
Moreso, Getresponse readily updates you on the deliverability rate of every message on your email analytics – something not yet encountered on other competing products' metrics.
Note, however, that to ensure a high deliverability rate, you are advised to use a system called DKIM email authentication. You can actually use DKIM with Getresponse but only on its more expensive Getresponse 'Max' plans.
Despite the fact that I'm yet to encounter any deliverability problems when using the cheaper plans, competing products don't force you to invest in more expensive plans in order to be able to access this feature — I think it would be good if Getresponse gets more generous in this regard.
#11. User-Friendliness / Interface
Summarily, using Getresponse is certainly straightforward – It's well easy to do the entire basics such as import contacts, create campaigns, set up autoresponders, check statistics. And the interface is obviously clean and intuitive.
Coming to how it stands against its competitors in this regard, I'd say that Campaign Monitor is slightly more user-friendly, while Mailchimp has a slicker user interface (which though, makes finding certain functionality slightly tricky sometimes).
From the point of view of user-friendliness, the Getresponse e-newsletter editor is one aspect which I think could be significantly better.
Of a truth, in theory, its drag-and-drop approach does provide a very flexible way to creating blocks of content and moving them around an e-newsletter, but in practice, it's slightly clunky to use and can result to accidental deletion of content, or to its placement in the wrong part of the e-newsletter.
This can turn out to be a very useful tool If you can but practice using it a bit even though the implementation of it could be better still.
#12. Support
Until very recently, Getresponse support used to be amongst the most comprehensive available for email marketing tools. The company, in addition to offering phone support also had live chat support, email support, and some other online tutorials/resources.
With the phone support having been discontinued, you now have live chat (24/7) or email support to use. In all fairness, most similar e-marketing platform providers also only offer these two channels therefore if phone support is a deal-breaker for you then you could consider Aweber since it still provides it.
Talking in terms of the quality of Getresponse support, which I've not often used ( a good thing), but the few times that I've had to, I discovered it is slight of a mixed bag ( less of a good thing). Some live chat support that I received was very good and I never had to wait for too long to chat with an agent; the email support is less so.
Some feedbacks received from readers somehow suggest that there's the need to make some improvement in the quality of support that Getresponse offers, but as it is with other similar companies like Getresponse, I think it depends on who works/is available on the day.
#13. Getresponse Free Trial
Getresponse provides a 30-day trial that is fully functional (up to 1,000 subscribers) and this is not contingent upon providing credit card details.
(SCARCE!)
This helps you avoid a scenario whereby you get charged for a product you didn't use because you forgot that you signed up for the trial.
YOU CAN GET THE FREE TRIAL HERE
PRO's Of Using Getresponse
#1. Excellent Marketing Automation Options. If you're interested and decide to use an 'Email' plan, Getresponse's charge is lesser than what's offered by most of its key competitors. This, in some cases, is significantly so in spite of the fact that they offer just as much if not more functionality than them.
Moreso, the discounts you get when you pay upfront for one or two years of service is very generous – and you'll hardly find similar reductions in costs from other key competitors.
#2. It's Webinar Functionality Is Something Never Offered By Any Of Its Competitors. Again, amongst other competing products, it has a quite unique CRM functionality ( which though needs to be more adequately developed if Getresponse is to be viewed as a true replacement for a CRM tool).
It has strong reporting and detailed split testing features.
#3. Getresponse Is Oen About Deliverability Rates & Publishes Figures On Its website. It also provides deliverability statistics for personal e-newsletters you send.
It offers a great approach to data segmentation — being more flexible on this front than do most other competing products, especially Mailchimp.
#4. It's Programmed In A Way That Allows You Add Subscribers To Mailing Lists On Both A Single-opt In & A Double Opt-in Basis… It does not only send responsive emails but also lets you preview smartphone versions of your e-newsletters with ease.
#5. It Is Packaged With A Useful Landing Page Creator Nevertheless, you must be on one of its more expensive plans in order to avail yourself of this fully functional version.
You are allowed a 30-day trial period of all its features without being required to enter your credit card details.
Free 24/7 support is also included in every plan.
Cons of using Getresponse
#1. The drag and drop interface for designing emails can be kind of awkward to handle.
The provided data capture forms are not only unresponsive but also beyond your control as you cannot determine when and where to display them on your site.
#2. There's the need to adequately improve the CRM functionality for it to be ranked as a replacement for a standalone CRM product.
The range of RSS-to-HTML e-newsletter templates provided is limited.
#3. The use of only 'web-safe' fonts in e-newsletters can possibly make the templates appear a little less slick than what other competing products give.
#4. The kind of a premium which users have to pay in order to access the landing page creator tool makes the pricing structure slightly confusing.
#5. With the landing page add-on not allowing you to do A/B tests, you are left with no choice than to use a more expensive plan than you may want to so as to gain this functionality.
It is only on the more expensive 'Max' plan that DKIM authentication can be accessed.
There's no provision for phone support.
In Conclusion To This Getresponse Review…
Getresponse's price is quite competitive in its marketplace as it is one of the most cost-effective ways of hosting and communicating with an email database.
It is, again, one of the most interesting products in its class as it provides email marketing, automation, landing pages, some CRM functionality and webinars all in one place.
Getresponse's ability to offer this 'all-round' proposition more than other competing products has continued to attract customers to use it for their e-mail marketing.
However, Getresponse needs to make some measure of improvement especially as it concerns its e-mail designer – as its drag and drop interface is kind of awkward to handle and less responsive than it should.
Again, the data capture forms need to be improved on especially for the users who want to have them displayed on their mobile devices.
On the whole, though, I give Getresponse a very high mark for it's a product that gives you good value for your money. You can get the 30-day FREE TRIAL here without entering your credit card details.
Have any thoughts or comments? Say them Below! I'll be available to answer…
Still Not Sure? Watch The Video Below! 
Enjoy the videos and music you love, upload original content, and share it all with friends, family, and the world on YouTube.