Fiverr Reviews: SEE WHAT THESE 22 PEOPLE SAID AFTER USING FIVERR SERVICES..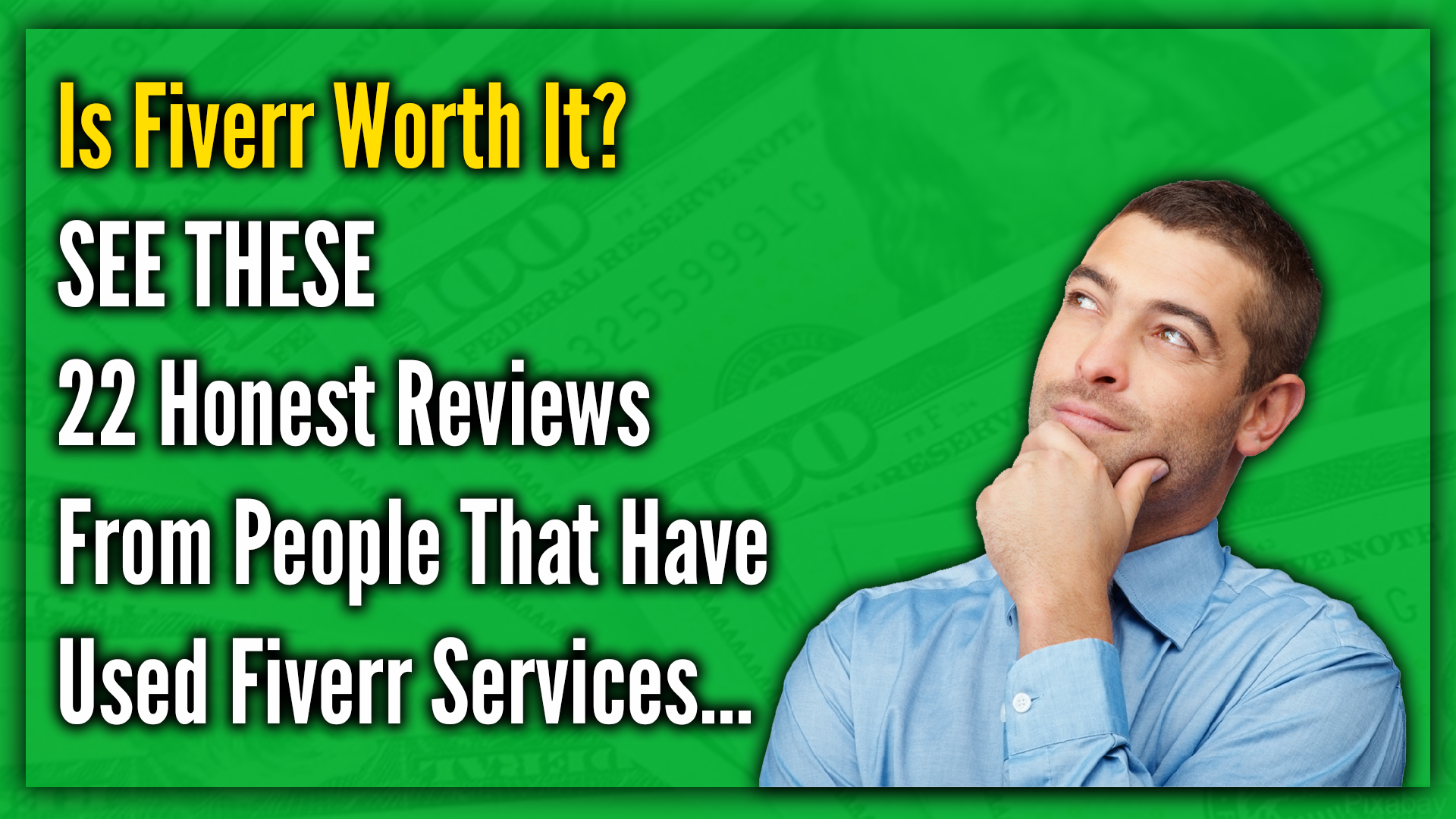 In this Fiverr review, we will reveal a bunch of Fiverr reviews and feedbacks that we have gotten from reaching out to over 51 individuals who have bought Fiverr services for their businesses so that you'll get to judge and decide whether or not to use Fiverr services for your business… But before we start if you finally decide to use Fiverr… We have negotiated a 20% discount to all our readers & you can get access to the discount by signing up for a Fiverr account with THIS LINK.. & with that said let's get started with the feedback below.
#1. Albert's Review On Fiverr
| | |
| --- | --- |
| Name: | Albert Nguyen |
| Position: | Owner At Shopalby |
| Comments: | "Albert here. I have been using Fiverr for many years to grow my business. I got my business logo and website designed by an expert on Fiverr as well as getting quality targeted traffic. So for all your business needs at affordable prices, I strongly recommend using Fiverr" |
#2. Gerald's Review On Fiverr
| | |
| --- | --- |
| Name: | Gerald Umeh |
| Position: | Founder At OnlineHustle |
| Comments: | "my name is Gerald Umeh and I have been on Fiverr since 2016 and I must say that it has been an amazing experience. I scaled my Fiverr account to the point I was making $1000+ monthly so I had to resign my Job, Fiverr is what I do majorly and I also train unemployed young people on how to use Fiverr and make a living on this amazing platform. Sometimes I think there is a bias on the platform against people from my part of the world. I also buy services on Fiverr. I always recommend Fiverr to all and I continue to do so because I believe it is an amazing platform. I currently have a YouTube Channel and a Blog dedicated to teaching people how to make money on Fiverr from my own personal experience" |
#3. Asif's Review On Fiverr
| | |
| --- | --- |
| Name: | Asif Hansoria |
| Position: | Founder At Zero2N |
| Comments: | "my name is Asif Hansoria & I am the founder/CEO of Zero2N and in my opinion, I would say that Fiverr is the best platform for entrepreneurs and freelancers looking to make business deals and as well offer their services to other with secured payment service. Best for freelancing" |
#4. Katya's Review On Fiverr
| | |
| --- | --- |
| Name: | Katya Komarova |
| Position: | Founder At katyakomarova.com |
| Comments: | "I use the platform quite often. I once had a terrible experience. A freelancer sent me a photo of a dead child when I asked her when she can finish the project. I didn't ask for proof why she was delaying her work and this was really too much. Still recovering" |
#5  Georgia's Review On Fiverr
Name:
Georgia Budden
Position:
Digital Marketing Coordinator At Service.com.au
Comments:
"My name is Georgia and I used Fiverr for the first time just over a week ago to source a freelance designer to create an image for a Facebook ad for one of our campaigns. I found that for the most part, out of the 20-30 responses I received, barely any of them read the job description as they specialized in something completely different than what I was after, and they were all non-native English speakers so I had difficulty getting relevant examples of past work from some of the ones who I messaged as they didn't seem to have an understanding of what I needed.

The freelancer I chose for the job was very prompt in responding and getting back the drafts and revisions, although didn't create the image based on the example image I initially sent. He was very friendly and efficient though!"
READY TO USE FIVERR? SIGN UP & GET A BIG 20% OFF!! CLICK HERE…
#6. Dave's Review On Fiverr
Name:
Dave Lye
Position:
Founder At pricemycar.com.au
Comments:
"Fiverr buyer since 2011 with 286 orders completed…
Have used Fiverr extensively over the last 8 years mainly for marketing, graphics & simple development. By choosing the right sellers, it's been an overwhelmingly positive experience. Looking at reviews, other gigs by the same seller and paying more than the minimum are my top tips :)"
#7. Jarrods Review On Fiverr
Name:
Jarrod Partridge
Position:
Co-founder At F1chronicle
Comments:
"Using Fiverr was quite the experience! Here's a story of what recently happened… 
I recently had the misfortune of hiring a freelancer who had to access my database to complete the job required. The first job went well, and we started an ongoing project. After that, it went downhill! The freelancer fabricated hours, billing me for over $1500 of work that was simply never done. When a dispute was raised, he then blackmailed me into dropping the case. So theft, blackmail, and bullying made for a truly horrible experience"
#8. Tracy's Review On Fiverr
Name:
Tracy Turnbull
Position:
CEO At BundleAndTwine
Comments:
"My name is Tracy Turnbull and I'm the founder and owner of Bundle + Twine, an online, boutique gift box service (www.bundleandtwine.com.au).

Customers 'buy with their eyes', so it's critical that the imagery we use on our website is professional and reflects the quality of our brand. With several hundred products in our 'design your own' gift box service, providing high-quality images of each product could be mind-blowingly expensive – but that's where Fiverr comes to the rescue.

I personally don't have the necessary skills to edit product photos, and my editing budget is tight, so that's why I initially tried Fiverr. I was skeptical at first as I had a 'you get what you pay for' attitude, assuming that the service would be sub-par as it was so cheap – but I was happily surprised after my first experience with them which was excellent.
I am now a regular user of Fiverr for BASIC editing of product photos – and if you spend a few minutes looking for the right Fiverr offer, you can get excellent value for money and a very quick turn around"
#9. Ellen's Review On Fiverr
| | |
| --- | --- |
| Name: | Ellen Ronalds Keene |
| Position: | Founder At www.selfcareforteachers.com.au |
| Comments: | "my experience with Fiverr has been overall positive but a little bit hit and miss in terms of service providers on there. Make no mistake, there are excellent people on the platform who do great work and go out of their way to deliver quality. However, I have found that it requires a bit of searching to find those people. Checking reviews is important but don't discount new people to the platform who don't have many reviews yet. I have encountered a couple of really dodgy sellers (e.g. delivering a piece of writing that was obviously plagiarized from a website that was only barely relevant to what I'd asked for) but I found Fiverr's customer service team to be absolutely excellent and resolved the issue quickly and professionally. I recommend it but you do need to do due diligence when it comes to who you are purchasing from and for what" |
#10. Gary's Review On Fiverr
| | |
| --- | --- |
| Name: | Gary Huxtable |
| Position: | Managing Director At Pet Parking |
| Comments: | "we have had mixed results on Fiverr, with some projects needed to be canceled due to poor communication and Interpretation, whilst others have been fantastic, especially given the price" |
READY TO USE FIVERR? SIGN UP & GET A BIG 20% OFF!! CLICK HERE…
#11. Jade's Review On Fiverr
| | |
| --- | --- |
| Name: | Jade Pearlhouse |
| Position: | Owner At www.JadePearlHouse.com |
| Comments: | "the experience on Fiverr was very positive – I hired a freelancer to design book covers for my books: the process was fast, effective and pleasant" |
#12. Jeroen's Review On Fiverr
Name:
Jeroen Minks
Position:
Digital Marketing Specialist At Vazooky
Comments:
"You can get a cheap logo design via Fiverr. However, the process of dealing with designers can be quite time-consuming. Often there's a language barrier, which makes you have to explain the same thing multiple times before they can act on it. There are often 3 revisions including in your original packaging, however, this will be spent on going back and forth to the designer to explain simple things.

I believe Fiverr is an ok solution to get simple design work done. However, for more advanced work you probably want to look for other solutions"
#13. Grundy's Review On Fiverr
Name:
James Grundy
Position:
Project Engineer At www.dopehome.com
Comments:
"I've been using Fiverr for the past four years and have made 94 orders. My experience has been mostly great, I use it for the following items:

– ebook covers
– logos
– social media posting
– article writing
– basic WordPress customization
– hosting transfer
– marketing flyer design

I find the quick turnaround times and low price point extremely appealing. However, I only use Fiverr for simple tasks and traditionally stick to graphic design orders. I tried purchasing SEO optimized articles, but the quality was very low. I mean what can you expect though for $5 an article? I've also bought a couple of gifts from Fiverr like pendants which were cool and unique"
#14. Neil's Review On Fiverr
| | |
| --- | --- |
| Name: | Neil Elliot |
| Email: | Co-founder At www.sirgordonbennett.com |
| Comments: | "we have been using Fiverr for a few months now. We have had various problems that we've needed to solve and have found Fiverr to be a great source that has helped us finish projects that otherwise would have taken us much longer to finish as we are not techies. From setting up Facebook pixels to redesigning checkouts with coding and setting up geo locations for specific eCommerce projects. The technical side has been great, although we have had to work hard to get the design side looking great with a few of the projects. Fiverr is a great source and for the prices, we are quoted we couldn't afford to do it ourselves" |
#15. Thomas's Review On Fiverr
| | |
| --- | --- |
| Name: | Thomas Coussens |
| Email: | CEO At Coussens Real Estate |
| Comments: | "I've used Fiverr for a number of different design briefs. I have had logos designed for a couple of different business ideas and some illustrations for some short stories that I have authored. While it was a little confusing the first time I used it, it was very convenient and quick" |
READY TO USE FIVERR? SIGN UP & GET A BIG 20% OFF!! CLICK HERE…
#16. Katee's Review On Fiverr
| | |
| --- | --- |
| Name: | Katee Blizzard |
| Email: | Marketing Strategist At socialgreatness.co |
| Comments: | "my experiences have been a mix of good and bad. I've found that when it comes to providing instructions, you need to know exactly what you want before reaching out to design graphics. There is nothing worse than two weeks of back and forth trying to get it right only to realize it isn't going to happen" |
#17. Vince's Review On Fiverr
Name:
Vince Massara
Email:
Owner At Book Summary Club
Comments:
"I have used Fiverr multiple times in my business. In fact, it is still something I use frequently. Your success will come from the types of gigs you buy. No matter what type of gig, I would suggest you start with something small for the freelancer so you can see their work.
The only thing I'd suggest you avoid would be buying backlinks or anything with a potentially big risk attached"
#18. Ian's Review On Fiverr
| | |
| --- | --- |
| Name: | Ian B. |
| Position: | President At Kredmo |
| Comments: | "for a past project, I tried using a Fiverr freelancer for web development work for a site. The freelancer had mostly 4 and 5-star reviews. So I said why not lets' to try them out. The task was completed on time. BUT the quality and cleanliness of the backend code not good at all. Other developers who reviewed the code said it was extremely bad. Because of this, I decided to not use Fiverr again. You live and learn :)" |
#19. Catherine's Review On Fiverr
Name:
Catherine Moolenschot
Position:
Managing Director At Catherine Moolenschot LTD
Comments:
"my name is Catherine Moolenschot and I am an author and ghostwriter who works with CEO and professionals helping them get their books written.

Fiverr is an affordable way for businesses to get creative work done. Sometimes I use Fiverr to design a finished product, other times I use Fiverr for different design concepts – e.g five different book cover designs – before employing an Australian-based designer to create the finished product.

There are so many people to buy from on Fiverr and the work you receive can be hit and miss. I usually employ at least three people for one project to ensure that at least one of them comes back with something useful. And once you do find someone good, you can employ their services again and again"
#20. Dimitri's Review On Fiverr
| | |
| --- | --- |
| Name: | Dmitrii Kustov |
| Position: | Internet marketing director at Regex SEO |
| Comments: | "I used Fiverr a lot. To me, "you get what you pay for" should be the motto of Fiverr. in 99% of cases you are not going to get anything decent for $5 bucks. Now, if you have patience and are willing to waste some money to test 100 or so vendors, you most likely would find a "diamond in a rough". Those vendors are doing quality work for less money. The only issue is that these vendors realize their value fairly quick and leave Fiverr for "greener pastures". And the vicious cycle of testing and wasting starts all over." |
READY TO USE FIVERR? SIGN UP & GET A BIG 20% OFF!! CLICK HERE…
#21. Rebecca's Review On Fiverr
Name:
Rebecca Henriquez
Position:
Founder At Tahitian Body
Comments:
"My experience with Fiverr was Fantastic!
I needed some product images deeply etched (background removed) a few months ago and was quoted $15-$20 per image by a few local photographers (I had 20 images to be done). I thought I would give Fiverr a go as I had heard positive things in the business community. The guy did a fantastic job, he had them back to me in 2 days and only charged $52 for all 20 images! I need some marketing materials developed at the moment and plan to use Fiverr again"
#22. Gregory's Review On Fiverr
Name:
Gregory Golinski
Position:
Head Of Digital Marketing At Your Parking Space
Comments:
"my name is Greg, and I'm the Head of digital marketing for YourParkingSpace.

We used Fiverr in the last couple of years. As services offered on Fiverr are very cheap, some of them can be too good to be true. You have to keep an eye open and establish a connection with a freelancer first to see if they're serious or not.

Our experience with Fiverr has been good so far because we always made sure to hire the right people.

We always have a chat with writers or designers before we hire them, and ask them to produce previous examples of their work to make sure they can deliver what we need from them.

If you have your wits about you and can recognize a red flag when you see one, it's possible to find serious, efficient professionals on Fiverr"
READY TO USE FIVERR? SIGN UP & GET A BIG 20% OFF!! CLICK HERE…
In Conclusion
You can see above the 22 Fiverr reviews that we gathered from various people who have used Fiverr from various parts of the world and I am quite sure that with all the Fiverr reviews above you can easily make your decision on whether or not you want to use Fiverr freelancers for your tasks and if you feel positive about using Fiverr then I'll strongly recommend you sign up to Fiverr with THIS LINK in other to get a big 20% OFF your first order..
Have any questions or thoughts? Ask Me in the comments BELOW!
Tags :
does fiverr work?
fiverr
fiverr review
fiverr reviews
is fiverr legit?
Is fiverr worth it?