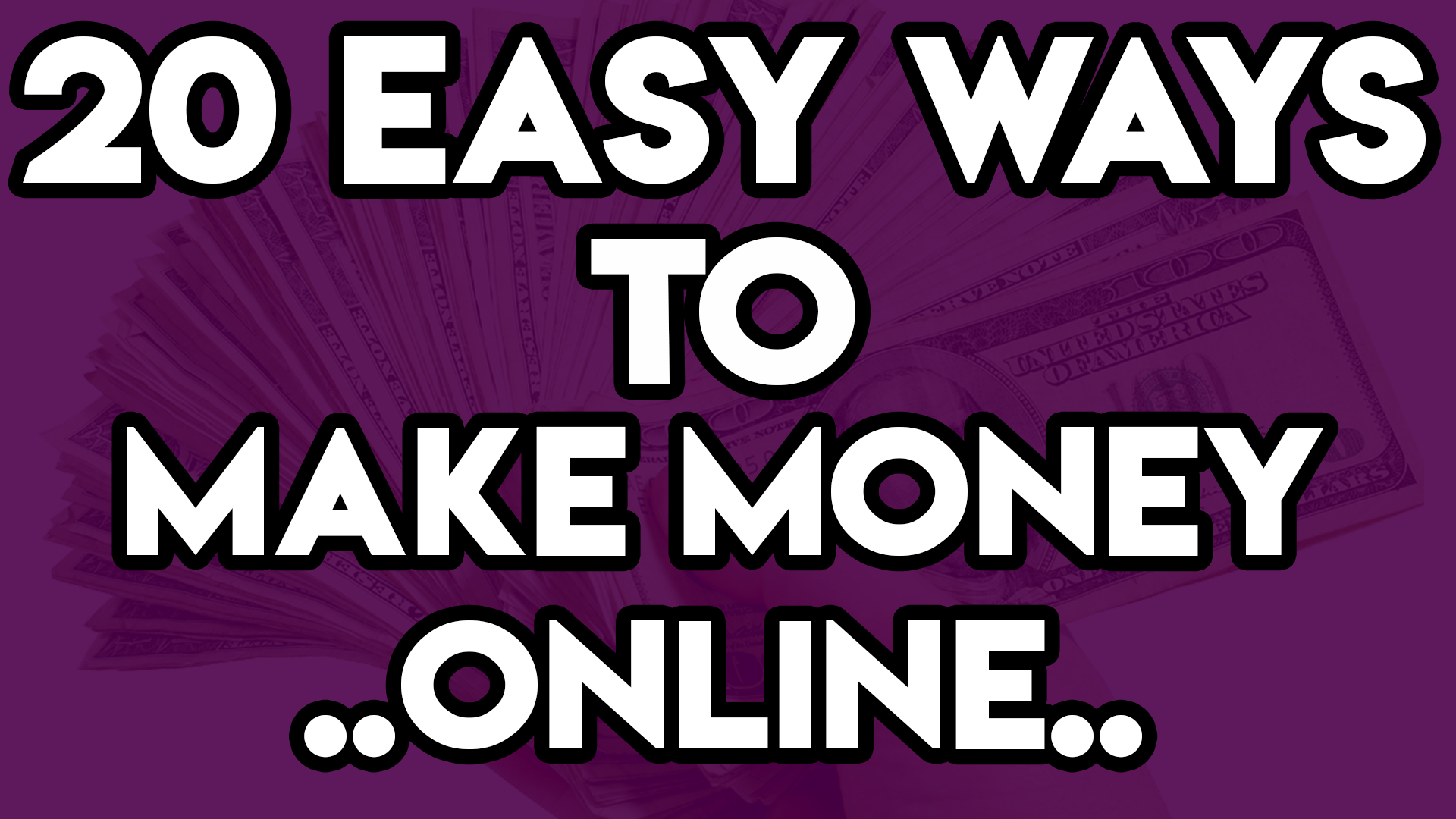 In this post I'll be showing you 20 easy ways that will enable you make some extra money online.. The list that I'm gonna be showing you below is perfect for anyone looking to make more CASH for various reasons… Here are 20 super easy ways to make extra money online listed below…
1. Blogging
Blogging is a very good way of earning money online as it opens many doors for you. Blogging can be profitable in different ways and I actually know some people who are making $200k and above each month Just by blogging full time. All you really need to do to start is go through 4 steps… Which will be setting up your new blog. Adding some engaging content… Driving huge amounts of traffic to your content… Then monetizing your content to make you money… And you can learn exactly how to get these 4 steps done in this Complete beginner-friendly guide to starting a new successful blog…
2. Affiliate Marketing
Affiliate marketing simply means promoting someone's products may be on your blog, email list, social media profiles, YouTube channel, online ads, etc. and getting paid a percentage each time someone buys the product that you were promoting through your special affiliate link… (If you still haven't gotten to the definition of affiliate marketing already READ THIS). I myself do record about $20k+ per month using just affiliate marketing.. See my complete guide to affiliate marketing…
3. Email Marketing
Email marketing simply requires you to build up a niche targeted List of people's Email address on an Email marketing software and market products that are related to their niche and actually make sales… The products that you could market to this list that you've built could be yours or an affiliate product (Another person/companies product that you promote and make maybe a 70% commission on every sale that is bought through your special affiliate link). For instance, let's say, You've built up a 200k recipients email list in the Weight loss niche then you can actually get an affiliate product for people that want to lose weight and email these 200k People whom you are sure are interested in losing weight telling them about the product… Let's say that you get a bad luck day and get 0.5% of your list recipients which is 1000 people to buy this weight loss product and let's say the product costs $100 and pays you a 50% commission which is $50.THAT'S JUST $50K IN ONE DAY FROM JUST ONE EMAIL SENT OUT!!😲… The power is in the list.. See my Full guide on Building a profitable Email marketing business…
4. Selling Services On Fiverr
Fiverr is a marketplace where entrepreneurs go to get jobs that they find difficulties with do… They can seek services like logo design, graphic design, social media management, SEO, website design and other similar services… So all you need to do is get on Fiverr, sign up as a seller create gigs (Gigs are the skills that you sell on Fiverr) on skills that you can sell, maybe logo design skill, skill in social media marketing and other stuff. But if you don't have any skills at all you might wanna head over to a course taking website and acquire some skills before you can make money online using Fiverr. I actually made my first $1000 online using Fiverr at the age of 14 so trust me on this and check out the complete fiverr course…
5. CPA Marketing
CPA marketing is very similar to affiliate marketing. CPA stands for cost per action and that simply means that you get paid each time someone takes an action on a page. The action could be entering their email address, downloading an app, taking a survey, entering their phone number, signing up for an account, making a call, entering a free trial and lots more… CPA marketing is very similar to Affiliate marketing but the difference is that in affiliate marketing the visitor needs to actually buy something before you get paid, whilst in CPA marketing the visitor only needs to take a specific action for you to get paid.. I am recently recording $10k+ per month from CPA marketing alone and I'll recommend that you see my complete beginners guide to CPA marketing..
6. Flipping Websites
This simply involves buying websites at a low price and then selling it for a way higher price. It's popularly known as website flipping and you can actually find websites that you can and resell on Flippa. I'll recommend you see my full guide on making money online with website flipping.
7. Selling On Teespring
Teespring is a website that allows individuals like you and me to design T-shirts, hoodies, leggings, mugs, phone pouch, etc.. and lets you attach prices to your designs and give you a link that you'll. use to promote your designs so that people can actually buy from your treating shop. This method made me over $10k+ and you can tap into this.. See my full guide to making money with Teespring.
8. Starting A YouTube Channel
Starting, owning and growing your own YouTube Channel is a very lucrative way of making money online…For those who don't already know, YouTube is a videos sharing platform owned by Google, And the good stuff about making money online with YouTube is that it's actually easy to do and really can be fun once you actually know what you're doing.. You can monetize your videos on YouTube through various ways.. Include Google AdSense, Promoting affiliate products on your videos, selling link spaces on your videos and lots more.. See also my full guide on starting a successful YouTube channel.
9. Building A Software
Imagine how much you could be making every month if you had a small but efficient software that you charge a $10 monthly fee for with about two thousand active users… That's $20k Coming In every month recurrently.. And the good Stuff About this is that You don't need to learn complex computer languages to code software… You can see everything about making money with the software on my complete guide to making $100k/month Building Software…
10. Starting An Online Store
I've seen a lot of my friends break off their financial ceiling just using their online stores… This is a very easy and lucrative way of making money online as it's very easy to start and scale just selling stuff on your online store. You can see my complete beginner guide to starting a successful online store.
11. Taking Paid Surveys
Here you'll actually get paid for sharing your opinion, answering questions and taking short minute surveys online. You can get paid $5 to $10 or more per survey and that simply means you can easily make a $100 per day which equals to $3000 per month by just taking twenty $5 surveys every day.. See also Top 23 websites that pay you to take surveys.
12. Selling Your Photos Online
If you're good at photography or you're good at photo editing and can create cool pictures/photos/images you could still generate passive income from that as well… You could put up your pictures for sale on sites like Foap, Shuttershock, Adobe Stock (Formerly Fotolia) and lots of other websites that allow you to put up your photos for sale. See the full article on how you can make money online by selling your photos here…
13. No-Risk Matched Betting
This is like the normal betting only that you bet for 100% FREE which means that you don't have to risk or lose any money from this system of betting… It's 100% risk-free as you don't have anything to lose as regards this and that's why its an easy free way to make money online.. See the full guide to no risk matched betting here.
14. CPA Content Locking
As the name implies, this method of making money online involves three things, Which are: Finding a Valuable commodity (Maybe a FREE E-book), Locking it in a vault and then telling people to complete a task that you get paid for before getting their hands on the FREE E-book. This method is very lucrative and I myself have made thousands from this simple method.. See the full guide to making money from content locking.
15. Selling Online Courses
Selling online courses is sure a good way to build wealth online while you sleep.. You can sell your online courses may be on your own website. On Udemy, Teachable and lots of other teaching and course selling platforms. Another good thing about selling courses online is that it makes you passive income and if you don't know what passive income is money that keeps rolling in even when you're sleeping, not working or decide to throw your laptop into the beach and go chill at some desert island. The money just keeps rolling in and you can check out my full guide on how to make money by selling courses online.
16. Using Paid Apps
It's not new knowledge that they are a lot of apps online now that actually pay you to use them do this strategy won't make you rich but it will actually make you money when I started I have my journey on making money online I use the few apps that actually paid me just for using them you can check out my list of top thirteen apps that pay you free money.
17. Testing Websites
This method of making money online actually allows you to get paid for testing out new websites apps and other stuff like that there are a lot of websites that actually pay you to do this and they include usertesting.com, respondent.com itester.com, userfeel.com and lots more.
18. Becoming A Solo Ads vendor
If you don't know already, solo ads are ads that require someone who needs traffic to pay someone who owns an email list to send their message to a number of recipients on the list owners list and that is a huge market right now where people are making thousands and hundreds of dollars from selling solo ads and it's literally simple cause what you'll be doing will be sending out messages to your list members and actually getting paid for doing that (But first you have to build an email list) . See my full guide on how you can start a successful solo ads business.
19. Online Arbitrage
This method of making money online simply involves you to find products that are sold at a cheaper rate and find people who are searching for the same products and resell the products to them with a profit that will be yours added to the products initial price this is a very lucrative method of making money online and I even have a friend that makes about 18 to $20K every single month by doing this…
20. Last but not least…
Thinking outside the Box. The methods that I have listed above are just the ethical ways that people generally use to make money online and There are still tons and tons of other ways to make money online and for you to see a bunch of outside the box methods… Check out the money making tutorial videos that are on my YouTube channel. If you have any other methods that you feel I should include In this post. Just drop a comment Below!